One day after Google officially announced the May 2022 Core Update, the Semrush Sensor caught significantly high levels of rank fluctuations.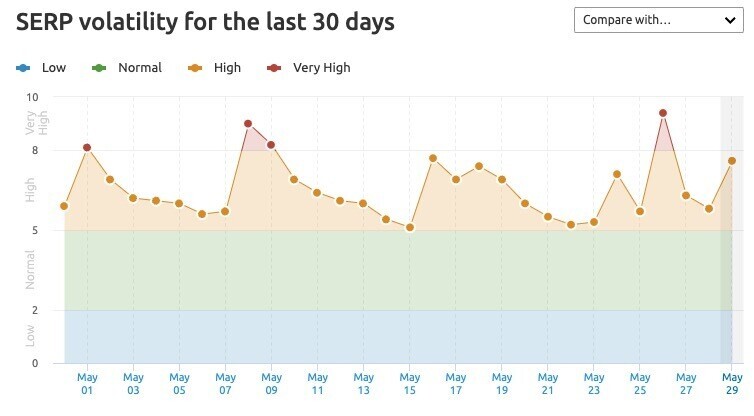 However, the initial burst of extremely high rank volatility lasted only one day. This is similar to volatility patterns exhibited both during the July 2021 Core Update and the November 2021 Core Update.
It seems that Google is adopting a much quicker initial increase in rank volatility during its core updates; prior to the most recent update, this initial period of extreme rank volatility would last 3-4 days or longer.
Let's take a look at the initial impact of the update and what it means for the winners and losers this time around.
How Volatile Was the May 2022 Core Update?
The answer here is complicated. When looking at the peak levels of rank volatility, the May 2022 Core Update seems as potent as the November 2021 Core Update.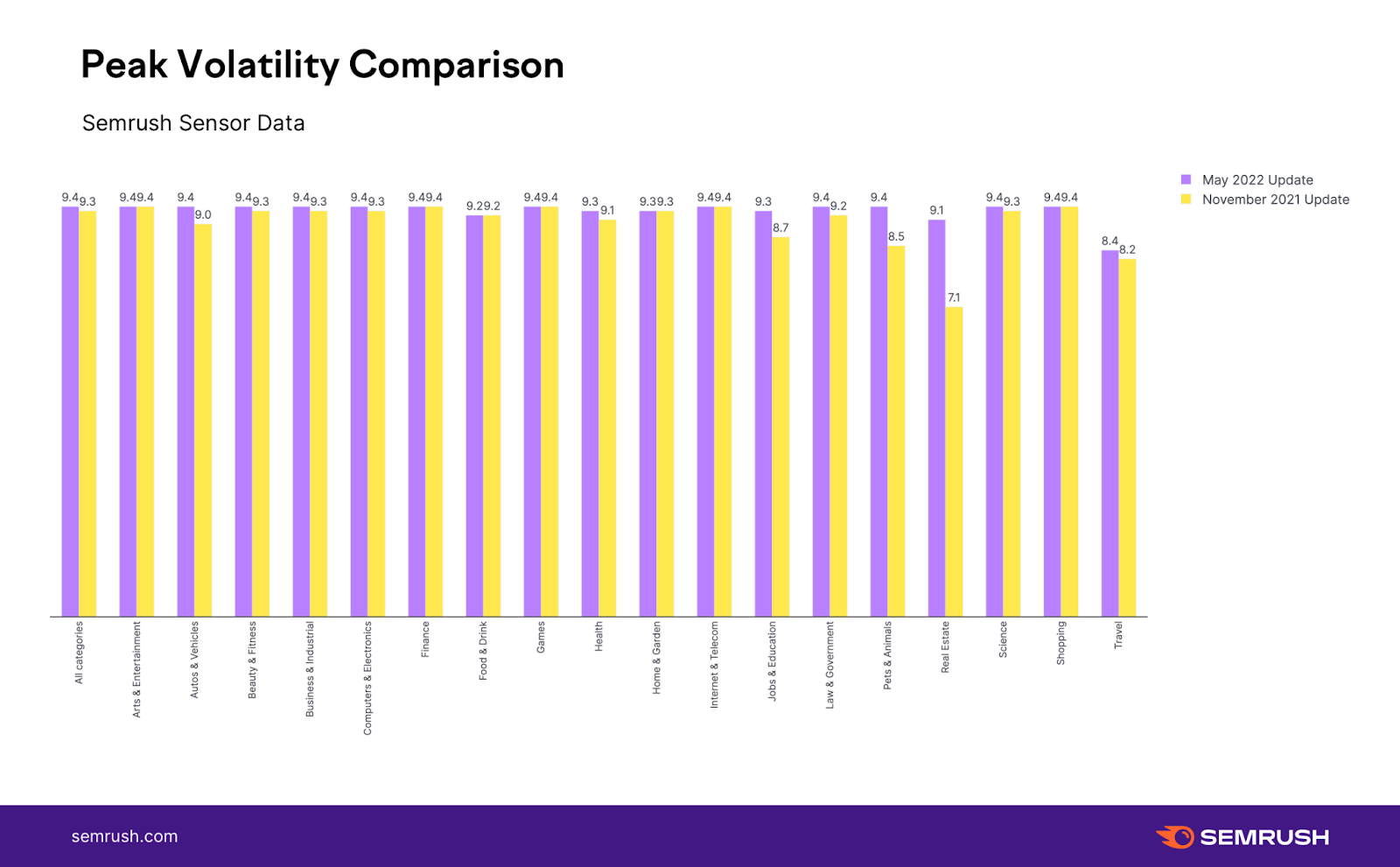 The peak levels of volatility seen during the May update are almost exclusively upward of 9/10 across verticals; Real Estate in particular was noticeably higher than it was during the November 2021 Core Update.
Overall, the average peak level of volatility was 9.4 on desktop and mobile. This stands at a similar level to the November 2021 Core Update, during which peak levels came in at 9.3 on both desktop and mobile.
From this perspective, the May 2022 and November 2021 Core Updates seem to have been equally powerful in terms of their impact on rank volatility, but we see that's not the case when we zoom in a little more.
When we look at the change in the average level of volatility, we can see that the November 2021 Core Update was far more impactful. It produced a far greater change to the baseline level of volatility that existed before the update: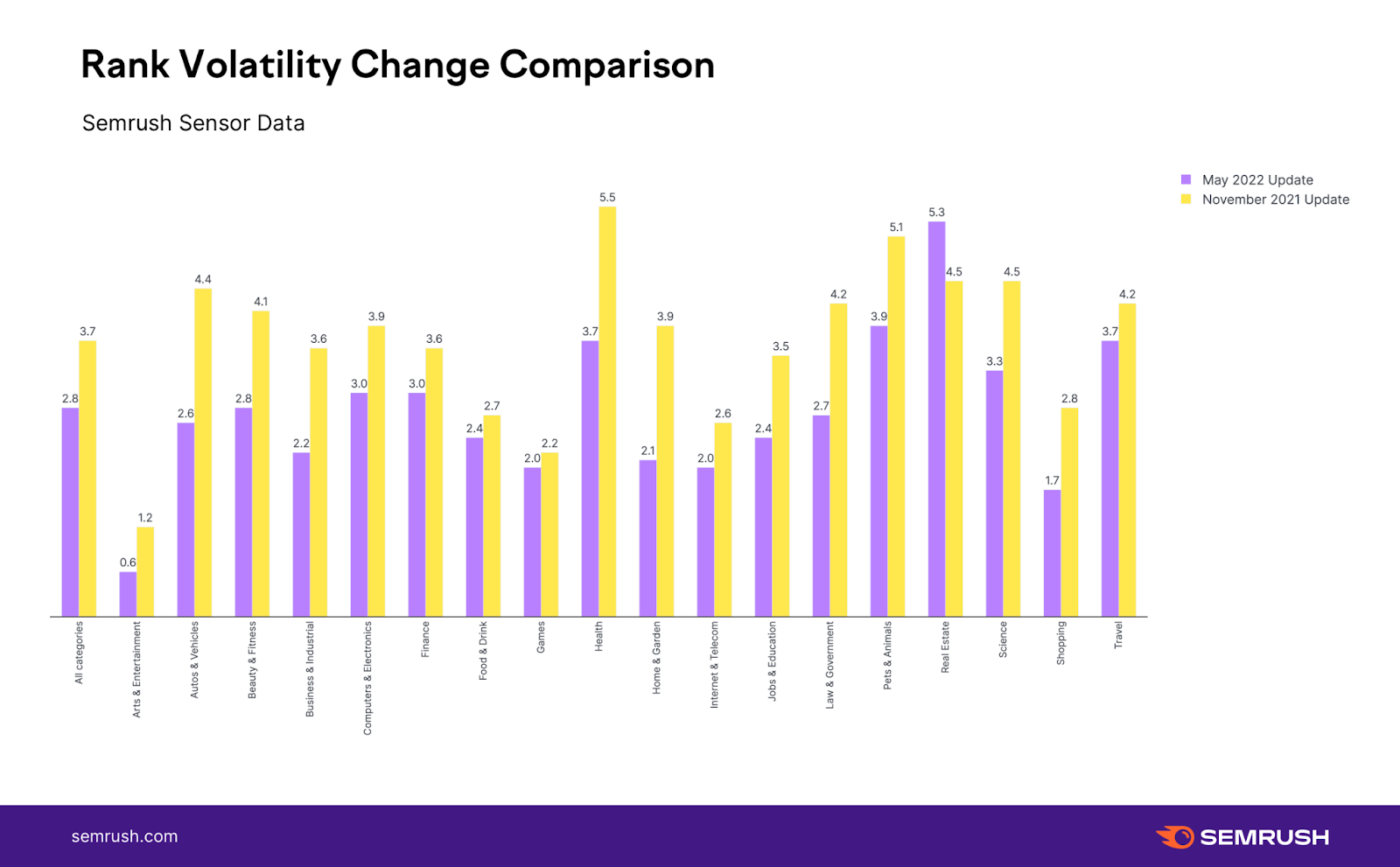 Specifically, the November 2021 Core Update took a pre-update level of rank volatility from 5.6 all the way to 9.3 on desktop. Comparatively, there was a far higher level of baseline volatility before the May 2022 Core Update; the pre-update level was 6.4 on desktop, which increased to 9.4 during the update.
While the highest levels of volatility seen during both updates were quite similar, they had further to climb during the November 2021 Core Update. Some residue volatility existed before May's update began, so it doesn't seem to have been as impactful as the one in November.
When we look at changes per device, desktop and mobile figures during May's update proved to be similar in terms of peak volatility, where a level of 9.4 was reached on both devices: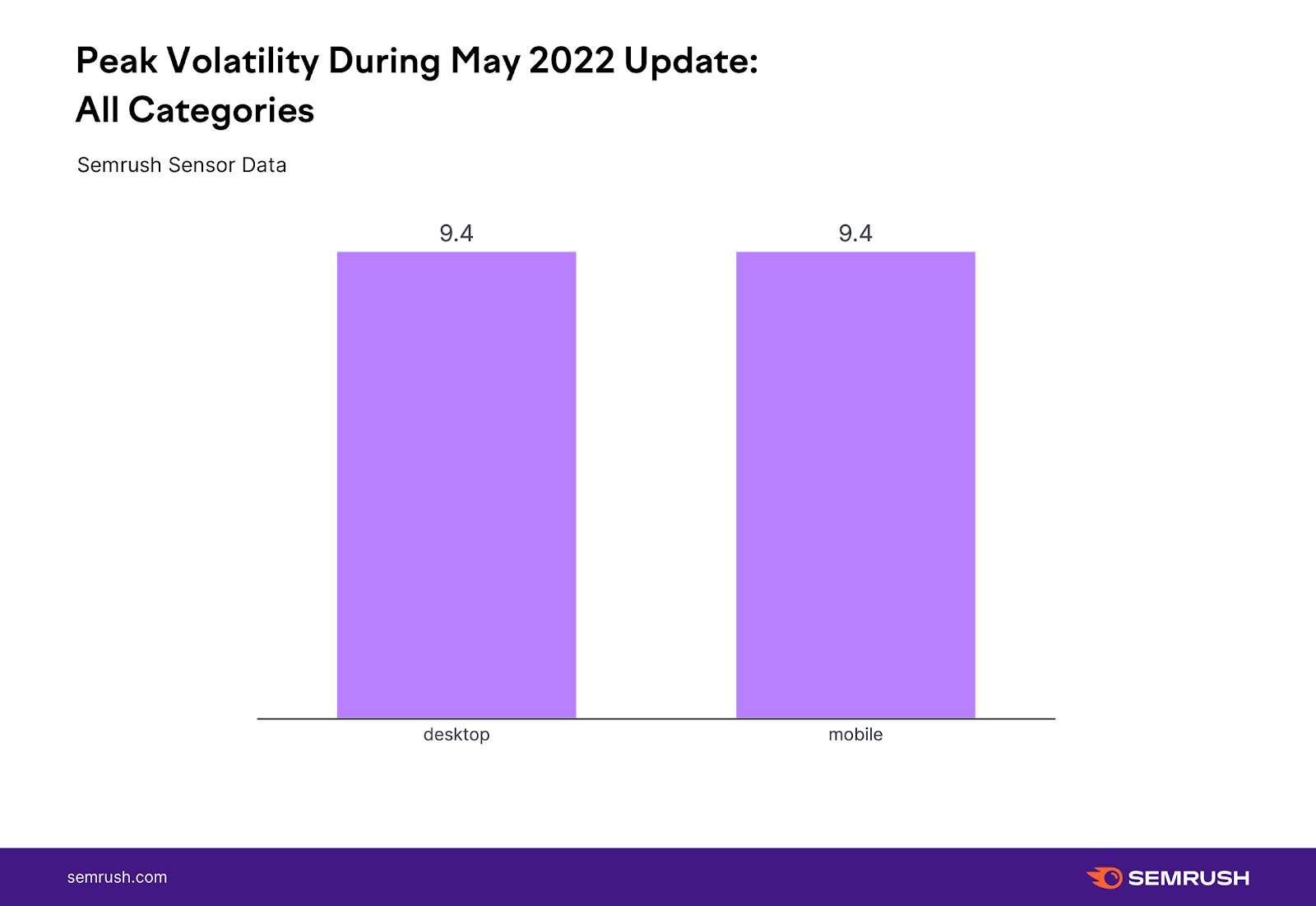 The increase in volatility relative to pre-update levels was slightly different across devices, though, as mobile displayed slightly more volatility prior to the update: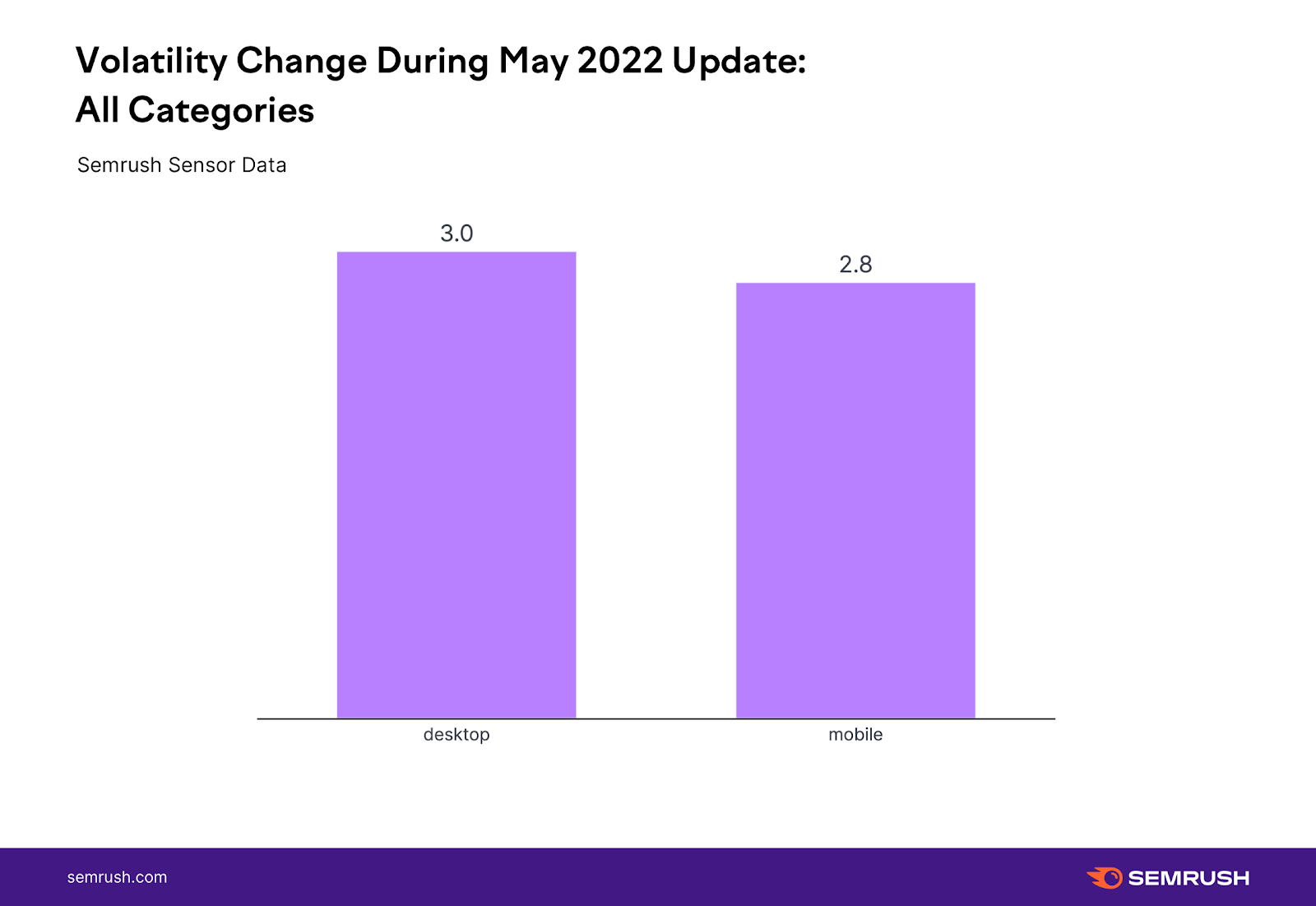 There doesn't appear to have been any dramatic change to specific verticals on this occasion, as the most impacted verticals were the same across devices.
On desktop, the following verticals saw the greatest increase in rank volatility:
Real Estate
Books & Literature
Hobbies & Leisure
Travel
Pets & Animals
On mobile, Health replaced Travel within the top 5 most impacted verticals:
Real Estate
Pets & Animals
Hobbies & Leisure
Books & Literature
Health
In both cases, Real Estate was the only vertical to see a volatility increase of over 5 points across devices, with increases of 5.4 on desktop and 5.3 mobile, but there were no fluctuations that indicate this update targeted specific niches.
Qualifying the Impact of the May 2022 Core Update
We are still assessing the full impact of the update, of course, as changes continue to take shape over time. To help get a sense of the initial impact and scope of the May 2022 Core Update, however, we investigated where newly ranking URLs came from if they appeared in the top 10 this time.
Here, in a similar way to the November 2021 Core Update, 6.7% of the top 10 results were previously ranked beyond position 20.
This is fairly typical for a core update and would indicate that there were some significant ranking shifts in May, but it remains to be seen whether or not this is a sign of consistency in the impact of Google's updates.
To understand this further, we also looked at the top 20 results overall to see the previous positions of the newly ranking URLs. Here, over 17% of URLs among the top 20 came from beyond position 20 itself.
Once again, this appears to have been very similar to the November 2021 Core Update, during which 16.2% of new URLs within the top 20 results ranked beyond position 20 prior to the update.
You can read more about the ongoing impact of Google's updates in our study here: Are Core Updates Becoming Less Powerful?
Parity Between Rank Gains and Losses
While we continue to analyze the impact of these algorithmic changes, we know that different updates can display different ranking patterns. For example, in some instances, while there may be sharp and drastic declines in ranking, Google will incrementally improve the rankings of the remaining URLs on page one by a position or two, so as to replace the URL(s) demoted from the SERP (or at least from page one of the SERP).
To better assess how the May 2022 Core Update behaved, we analyzed the average gain and loss in position that URLs experienced as a result of the changes. How did different industries fare against one another across mobile and desktop combined?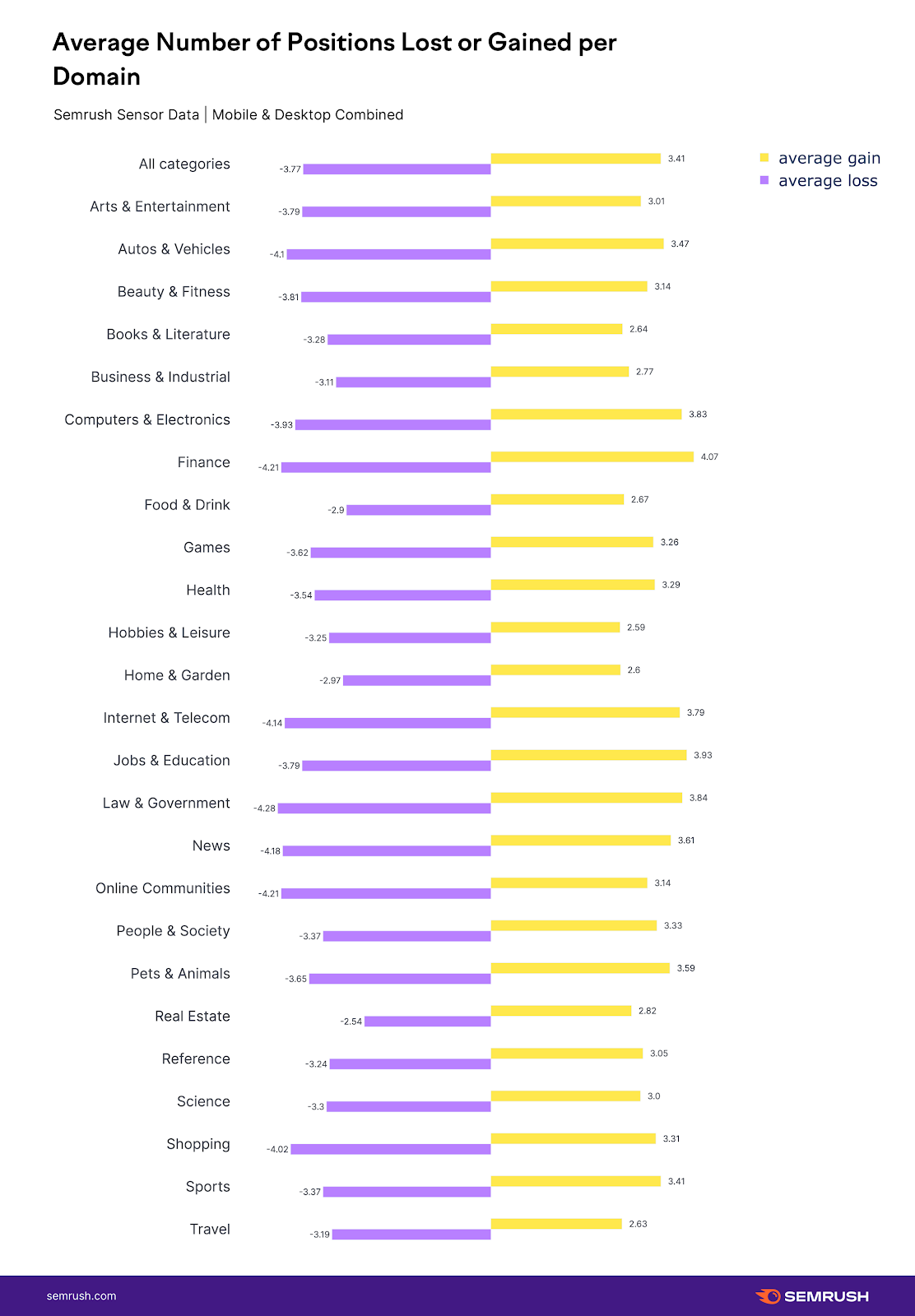 For the most part, there is general parity between instances where URLs underwent ranking losses and ranking gains. Overall, the URLs that lost ranking positions lost an average of 3.8 positions, while those that improved rankings gained an average of 3.4 positions.
There were some verticals that deviated from this pattern, such as Arts & Entertainment and Books & Literature; each one lost more than it gained. The need to focus on creating quality content (which includes considering E-A-T) relevant to your audience is universal.
Without looking at specific instances, it's hard to diagnose the causes of the disparities. They can range from how Google utilizes SERP features within any given vertical to the content available to Google and its inclination to significantly reward it.
Changes in rankings as a result of algo updates can cause mass hysteria in the SEO community, but it's crucial to approach them with a long-term mindset. As real as a negative change in rankings is, core updates can present new opportunities to sites (and even if impacted negatively, there is always the possibility of making improvements that ultimately bring long-term growth).
Average Gains and Losses During the May 2022 Core Update
When we take a look at the top 100 websites that experienced the biggest losses and gains, as we did after the November 2021 Core Update, we see that:
The May update winners gained around 31.4 positions, with an average position of 10.2. For context, November's winners gained 33.6 positions.
Those that were most heavily impacted by the update lost around 34.9 positions. In November, they lost 27.6 positions.
Over to You
Insofar as the initial volatility is concerned on the back of Google's core updates, it's interesting to see a change in its tendencies around releasing them. Rather than the marquee events they perhaps once were, Google makes a point of stating that it carries them out "several times per year."
This could be a part of a larger trend that has core updates becoming less impactful over time. At a minimum, though, it makes the need to track the full roll-out of an update and prepare your site for future updates all the more necessary.
As with all core updates, it bears repeating that you should hone in on the quality of your content if you see an update negatively impact your rankings and traffic. Don't fall into the trap of focusing on loss of rank.
Before devoting important resources to making changes to your site, make sure the ranking loss impacts keywords that are vital for your site's health and success and will mean a real loss of traffic as a result.
Only then can you begin to understand and plan where to focus your attention, from content creation that's perfectly aligned to your niche to full optimization of content you already own.
SEO is a big machine with lots of little moving parts—sometimes it can stress out the most seasoned of SEOs.
So how can you make sure everything works just right?
Level up your knowledge and download this free SEO audit checklist and PDF. You'll find tips and tricks on all kinds of website issues so you'll never lose track of what to do next.
Learn how to fix your website
Because a healthy site is an SEO-friendly site
Overcome Your SEO Obstacles with Semrush's Free Audit
Whether you're just starting out or looking to advance your skills and knowledge, you can take a big step with a Site Audit on Semrush.
At the bottom of this page is a comprehensive SEO audit PDF and detailed ebook to guide you through all the steps of keeping your site healthy.
Plus, you can try Semrush's free audit for your website—just type a domain in Site Audit.
Use this tool along with the Semrush audit PDF to smash through any site health obstacles like:
Slow site speed
Wrong redirects
Switching to SSL
Bad UX on mobile
Duplicate content
Messy site architecture
And more SEO nightmares
Before you start smashing, read the ebook to understand the most common website issues. You'll get advice on simple improvements to eliminate pesky website problems and start getting better online visibility.
And don't miss our article that answers the most common question: "What is SEO?" Or just be like the Hulk and get to crushing those site issues!
What You'll Find in the SEO Audit Checklist and PDF
The world of SEO and web technology is always changing (we're looking at you, Google algorithm updates). Downloading this PDF can help you keep watch for problems with:
Crawlability

Every important page of your website has to be crawlable for search engine bots. Plus, website health includes making sure all of the pages you don't want to be indexed are hidden from crawlers. Make your robots.txt and XML sitemap work to your benefit and not against you by ensuring that they contain no errors.
Indexability
If a webpage isn't in Google's index, you won't be able to find it via search. Indexability means your site content will be easy for Google's crawlers to find and index, making it easier for people to find when searching.
Efficient organization of the content on your site is a recipe for happy visitors and crawlers. You'll see how to create SEO-friendly URLs, how to use use a site checker to audit all of your website's internal and external linking for mistakes and incorrect redirects.
On-Page Issues
On-page content was crowned by the SEO community a long time ago and it continues to rule to this day. It demands special care for itself and its courtiers–meta tags. You have to attend to bothersome duplicates, wonky titles, irrelevant headers, and bland descriptions that suck the SEO quality out of your pages.
Technical SEO
"This page is taking so long to load, but I will gladly wait," said no one ever. Unoptimized visuals, poorly coded HTML, and outdated technology will drag you away from Google's first page if you don't start a preemptive emphasis on speed and good code. Oh, and there's also mobile optimization, of course.
Accelerated Mobile Pages
AMP is a technology that can wildly increase page speed on mobile devices. With AMP, mobile users can open Google search results in an instant. AMP coding involves restrictions and specificities, and you'll have to abide by its rules. To help you set up your AMPs correctly, our Site Audit tool detects over 40 AMP-related mistakes while showing you the exact line of code where the error crept in.
HTTPS

Since security is as important in cyberspace as it is in the offline world, it's no wonder that HTTPS is a ranking factor becoming more and more significant. Nowadays, it's not only necessary for the websites that request sensitive data but for pretty much everyone. Admittedly, moving your website to HTTPS smoothly and maintaining a secured protocol is a complicated business—we're here to help.
International SEO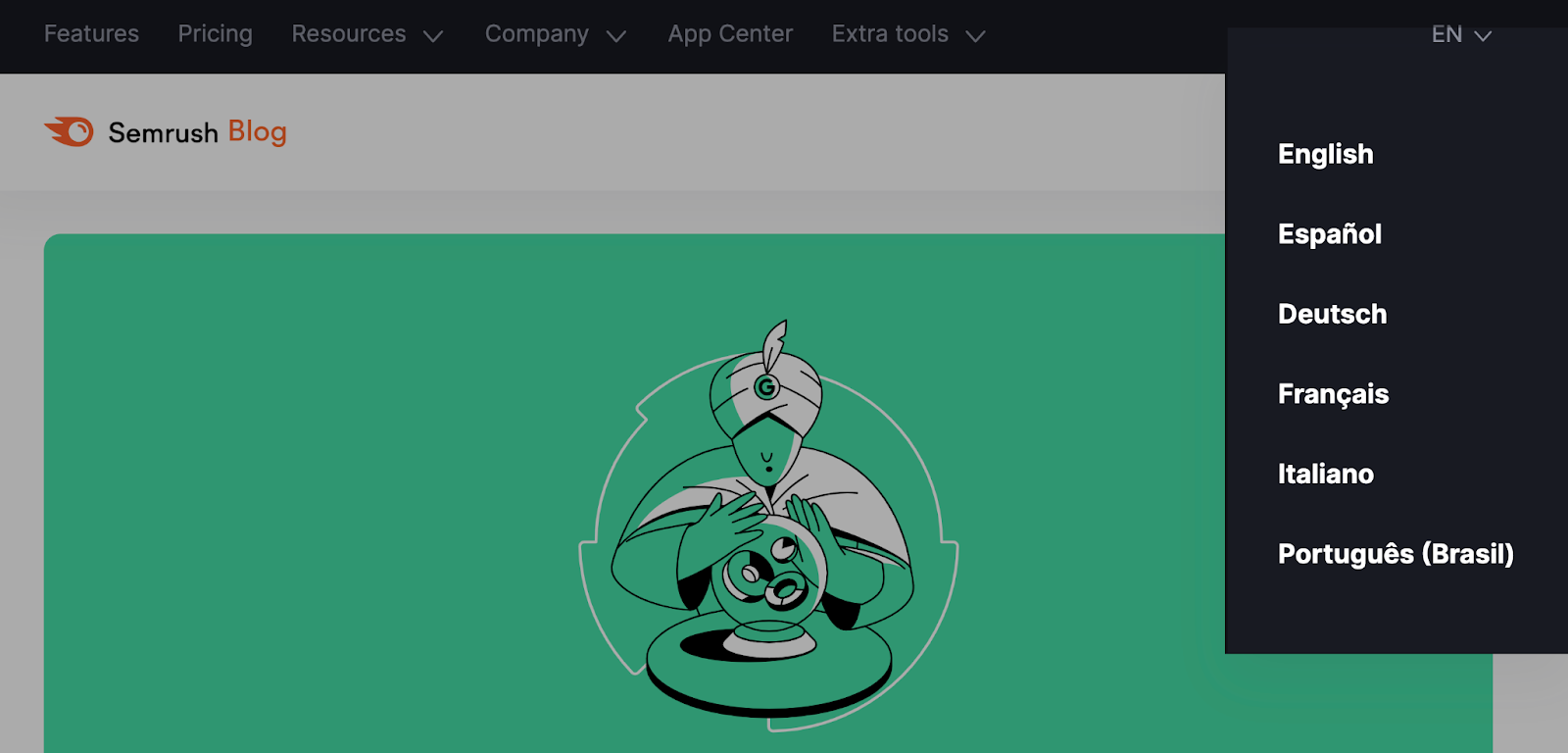 For those auditing international websites, SEO errors can send your multilingual website to the last SERP. Setting the correct language to appear for the right audience and making the search engines cooperate is a difficult mission where mistakes are very hard to dodge.
Check Out Our Free Website Audit Service
With the right tool and the proper techniques for performing a website audit, you can handle the daunting task of auditing your site. The Semrush Site Audit tool offers full functionality and a free crawl for 100 pages, so you can try it today.
Now go ahead and fix your website! And please tell us about your experience. Your feedback will be much appreciated as it helps us evolve.
When you need results fast, making on-page SEO optimizations is often the best place to start. Optimizing pages on your site to improve user experience and give Google a clearer idea understanding of your content can go a long way toward better ranking and traffic.
To start, focus on a small subset of pages and audit them for the most important on-page SEO factors. If you optimize for each of the essential on-page elements, your adjustments can have a drastic impact even if each individual change involves just a small tweak.
What Are the Most Important On-page SEO Elements?
1. Title Tags
The title tag appears within the search engine result below the URL but above the meta description. Title tags should be eye-catching, on-brand, and optimized for your keywords.

In theory, meta data optimizations are the most basic of tasks. But in practice, crafting title tags and meta descriptions is more of a nuanced art than a hard science.
The rules of title tags are simple, but the strategy is complex. A widely-accepted rule is to stay under ~60 characters, but you should target 51-55 characters fo the best odds that Google won't rewrite your title tags, and click-through rate studies suggest you should cut that character count in half. And if that weren't enough of a challenge, the rules of SEO say to use your exact-match query, but your brand voice guidelines may require you to be playful and casual, making it difficult to work those keywords in naturally.
A great title tag is like a great tweet: it has an "it" factor. For your most important landing pages, take the extra time to make sure your title tags check these boxes:
Uses the language of your target audience, using the exact-match keyword if possible
Speaks to the search intent of your target audience, because some page views count more than others
Eye-catching and on-brand, to make every impression count
Truly descriptive of the content because an inaccurate title will destroy your bounce rate
If you are writing title tags for a client, the beauty of well-written meta data is that you'll earn the client's confidence that you understand their audience, product, and industry. If your client is hesitant to make a change, try these SEO A/B tests to perfect your metadata. SEO A/B testing gives you data to back your optimizations, making it easier to get your work approved quickly and implemented faster.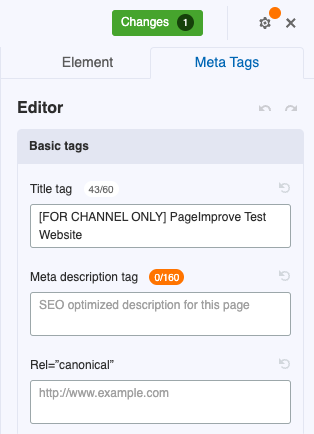 Of course, sometimes approval and implementation don't go hand-in-hand—developers may be up to their necks with other tasks. In which case, "wow" the client once more with your ability to get the optimizations implemented using PageImprove for title tag and meta description optimizations.
Note: Google does not always display the title tag you specify. Sometimes they pull in another header from your page, which is why those must also be optimized.
2. Headings that Say It All
It's not just what you say, it's how—and where—you say it. Putting your target keyword in your heading and subheadings is a no brainer: you'll see greater impact optimizing an H1 than if that same term is hidden in the page copy.
Just like title tags, the H1 should be crafty, compelling, and front-loaded with keywords, drawing your target audience into the main content. That said, H2s and H3s are often where the real opportunity lies, since they are more likely to be neglected, stale, and unoptimized, making them perfect targets for SEO optimization.
Often, Content Management Systems (CMS) make it impossible to optimize headings on any pages not containing long-form content, such as a blog post. In reality, any and every page can benefit from optimizing subheadings, including templatized pages like ecommerce product detail page and other standardized listings. PageImprove enables you to adjust headings and subheadings independent of the templates restricting your CMS.
Stop Waiting Around for SEO Changes
Bypass the bottleneck with simple, reversible SEO changes.
Let's say I wanted to optimize the H1 on a product detail page. If I did so in my CMS, I'd have to change the actual product name. Now that would cause a chain reaction, messing with not just inbound links, but also orders and fulfillment. Instead, optimize the H1 with PageImprove, and the product name doesn't have to change throughout the site—just the H1.
Same thing with subheadings. Say your product page template has a "Why We Love It" section, which cannot be edited in the site backend. With PageImprove, you can tweak this Subheading to "Why We Love [Keyword]" independent of the template. No more ifs, ands, or buts when it comes to revising headings and subheading on a templatized page.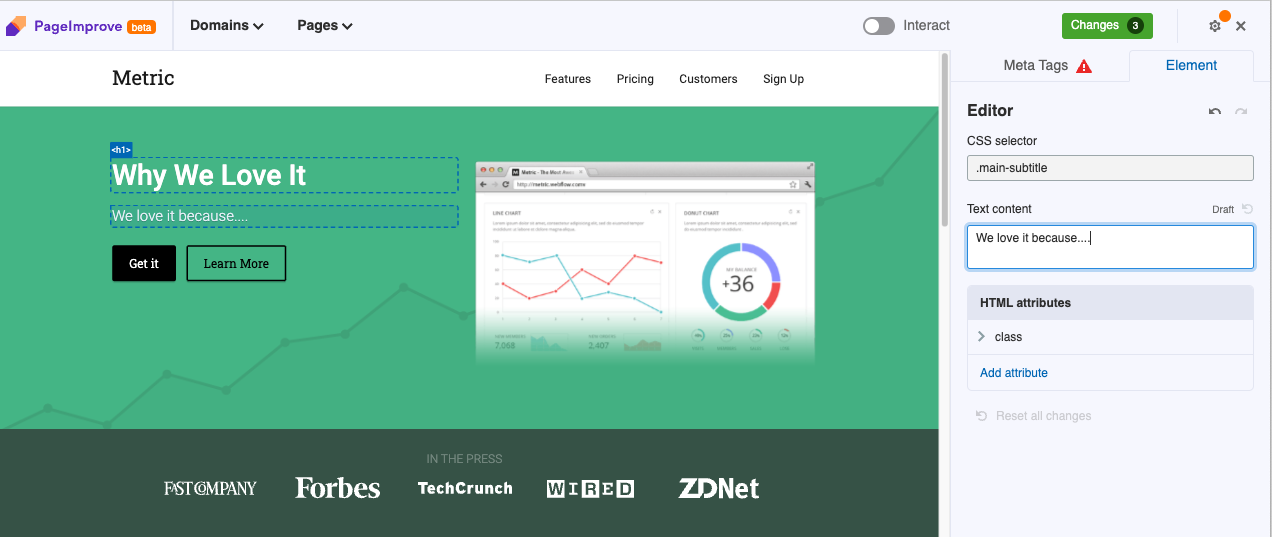 3. Rich Content—No Matter the Length
Suffice it to say, the future of on page SEO lies in semantic search and natural language processing. That means it's essential to make sure that your content is not just keyword-rich, but deep. Great content should answer the query, anticipate the user's next questions, and answer those, too.
But what about content formats where text is brief by nature? Make the most of shorter content by being intentional with every word. To this end, ensure your copy is:
Rich with terms semantically related to your target keyword (try swapping out pronouns like "it" for words that are more descriptive)
Easy to read, for people and machines (try writing in complete sentences instead of fragments and shortening run-ons)
Apply the two simple rules above to any copy, and you may be surprised at trends you find. Product pages use fragmented sentences that are Short. Snappy. To. The. Point.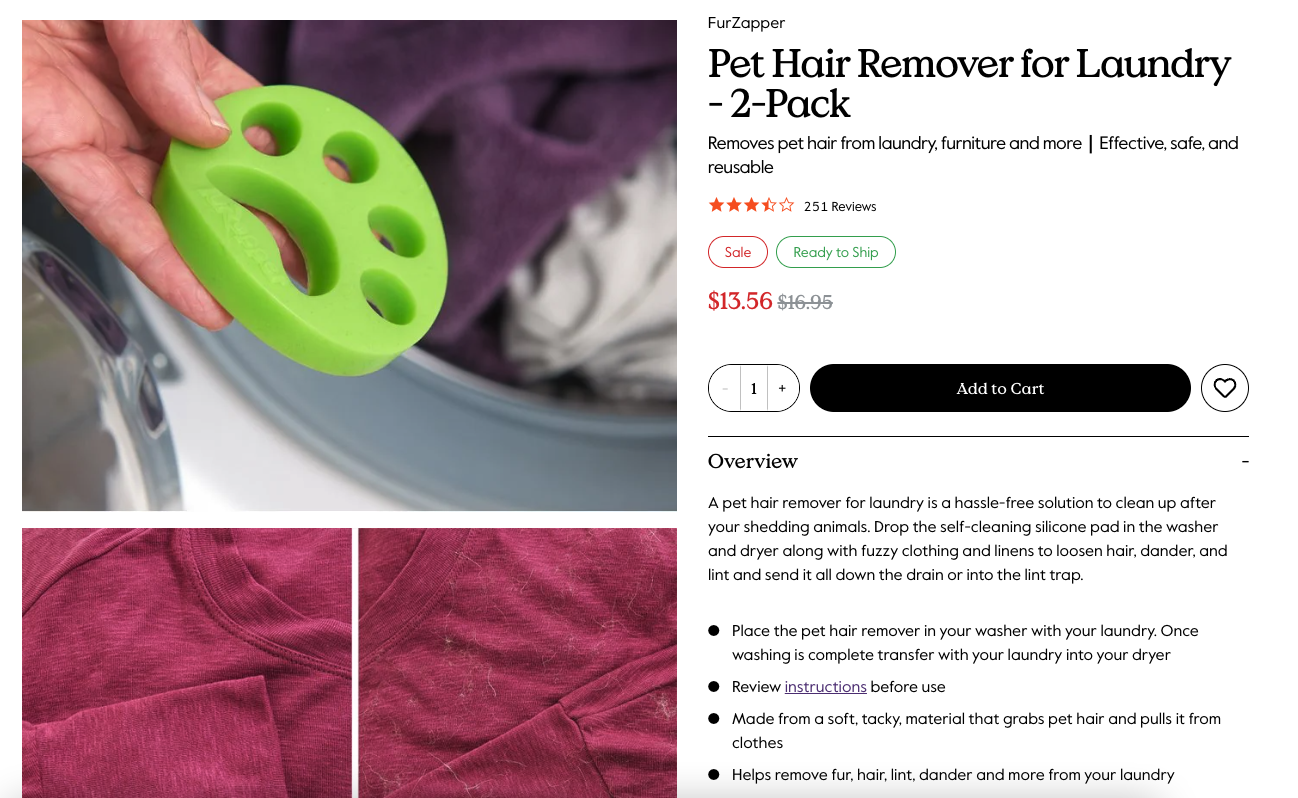 On the other hand, long-form content is often ripe with meandering run-ons, which often lose readers who are there for the meat not the fluff, and they certainly don't make sense to crawlers, which are still growing in sophistication when it comes to natural language processing, and…
Rework the grammar so your target keywords and semantically related terms act as the clear subject of the copy.
Following the two rules above needn't interfere with brand voice guidelines or consume implementation bandwidth, which are often on page SEO roadblocks. If your site struggles with SEO implementations like these, check out our recent guide on how to present and track implementations. And for the ultimate quick-win, update your newly optimized copy with PageImprove—even without backend access.
4. Internal Links with Optimized Anchor Text
Internal links are an easy-to-action, high-impact on-page SEO optimization. From a search perspective, we love internal links because they enable link equity to flow throughout the site, and they allow you to optimize anchor text to the destination page. And as an added bonus for your revenue and conversion metrics, they facilitate the path to purchase.
Internal linking optimizations should follow two rules:
Optimize anchor text with your target keywords or semantic terms (avoid generic calls to action like "Learn More")
Choose link placement wisely (links from authoritative, semantically related content will reap more benefit to your target landing page)
Internal linking optimizations are an easy-sell to most client teams, making anchor text optimizations an SEO go-to when brand guidelines are restrictive. Especially if your site has a mix of "I want to know" and "I want to buy" content, most parties can get behind the idea of adding links from Top of Funnel Content to Bottom of Funnel content.
For example, in this article, you'll see several links to blog posts on this site and beyond. Each one features relevant, carefully-chosen anchor text.

5. On-page E-A-T Signals
If your rankings ride the waves of the latest algorithm updates, you may want to deep dive into your site's E-A-T signals. Improving expertise and authority requires a holistic E-A-T strategy, and the subject itself is worthy of a novella. In the meantime, there are some quick on-page wins you can make when it comes to E-A-T.
Look to add high-quality external citations to informational content and long-form articles. Ensure the author is reputable and provide author bios. Remember that E-A-T signals are there for users as much as Quality Raters, so awards, testimonials, and studies can all add value for your target audience.
Admittedly, it can be tricky to quantify the benefit of E-A-T when it comes to your bottom line. After all, what does authorship have to do with revenue? Well, if your site is Your Money Your Life (YMYL), establishing beneficial purpose and demonstrating trustworthiness is important for rankings, conversion, and thus overall lead generation. Still, E-A-T optimizations still can seem a bit too "meta" for a brand that has to put time and development resources behind SEO implementations. In which case, tackle E-A-T optimizations with PageImprove. You'll spend more time doing and less time debating.
https://platform.twitter.com/embed/Tweet.html?dnt=false&embedId=twitter-widget-0&features=eyJ0ZndfdHdlZXRfZWRpdF9iYWNrZW5kIjp7ImJ1Y2tldCI6Im9mZiIsInZlcnNpb24iOm51bGx9LCJ0ZndfcmVmc3JjX3Nlc3Npb24iOnsiYnVja2V0Ijoib2ZmIiwidmVyc2lvbiI6bnVsbH0sInRmd190d2VldF9yZXN1bHRfbWlncmF0aW9uXzEzOTc5Ijp7ImJ1Y2tldCI6InR3ZWV0X3Jlc3VsdCIsInZlcnNpb24iOm51bGx9LCJ0Zndfc2Vuc2l0aXZlX21lZGlhX2ludGVyc3RpdGlhbF8xMzk2MyI6eyJidWNrZXQiOiJpbnRlcnN0aXRpYWwiLCJ2ZXJzaW9uIjpudWxsfSwidGZ3X2V4cGVyaW1lbnRzX2Nvb2tpZV9leHBpcmF0aW9uIjp7ImJ1Y2tldCI6MTIwOTYwMCwidmVyc2lvbiI6bnVsbH0sInRmd191c2VyX2ZvbGxvd19pbnRlbnRfMTQ0MDYiOnsiYnVja2V0IjoiZm9sbG93IiwidmVyc2lvbiI6bnVsbH0sInRmd190d2VldF9lZGl0X2Zyb250ZW5kIjp7ImJ1Y2tldCI6Im9mZiIsInZlcnNpb24iOm51bGx9fQ%3D%3D&frame=false&hideCard=false&hideThread=false&id=1534289111179137024&lang=en&origin=https%3A%2F%2Fwww.semrush.com%2Fblog%2Fthe-most-important-on-page-seo-factors%2F&sessionId=c076f816aa75a5522c555fc613cab13e5716b684&siteScreenName=semrush&theme=light&widgetsVersion=b45a03c79d4c1%3A1654150928467&width=550px
6. Content that Answers 'People Also Ask' and FAQs
Back to the topic of semantic search, do some research on the SERPs you're targeting. The first place to look is the People Also Ask (PAA) box—an interactive search result that displays a box of questions that other searchers have asked in relation to your original search. PAA functionally enables Google to increase the number of featured snippets on the SERP—which will give this SERP feature longevity.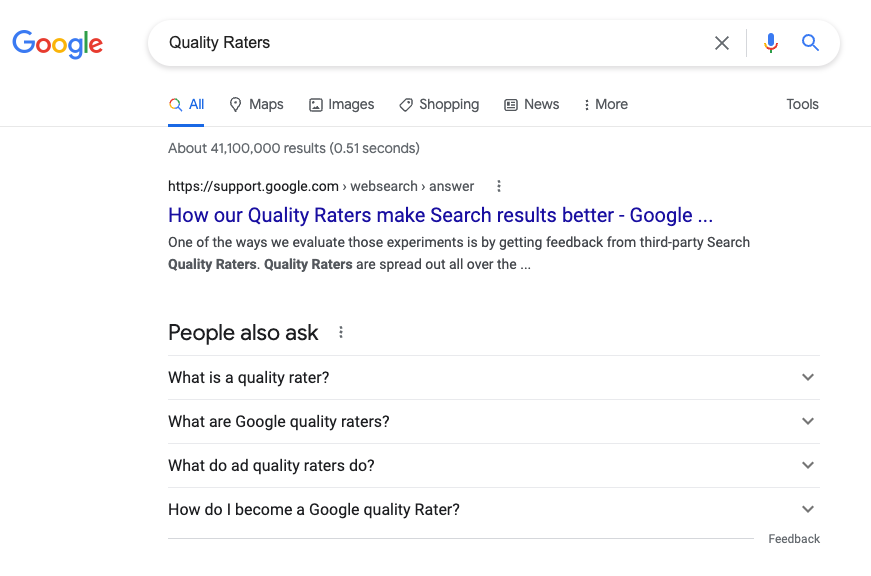 If you can find them, target PAA that have weak answers that can be improved upon. But even if the current PAA results are totally on-point and you don't expect to unseat the current ranking page, you should still incorporate these questions in your content. Why? This will ensure your content is thorough and robust. In other words, it all comes back to semantic search.
To optimize for PAA, start by directly asking the relevant questions in subheadings and answering in list or paragraph format as appropriate. For long form articles, you may be able to do this directly in an H2. For ecommerce pages, you may want to create a dedicated FAQ section. All you need is the ability to edit headings and copy, and you're on your way to an enhanced search appearance. Inflexible CMS? Do it with PageImprove.
7. Descriptive Image Alt Text
Depending on the nature of your content, image optimizations can be somewhat important or truly essential for SEO. If the content is an infographic or the subject matter is visual in nature (i.e. interior designs, fashion trends), making sure your alt text is optimized falls into the "truly essential" grouping. And of course, descriptive alt text is always critical for visually impaired users.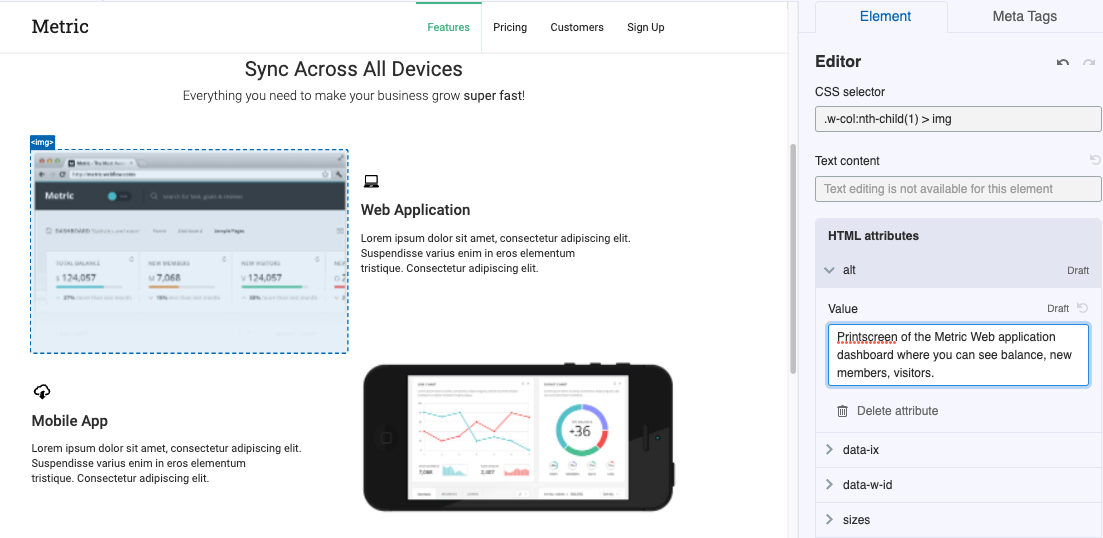 A "truly essential" example (which pains me still) was a local landing page whose services were detailed in an image rather than good old-fashioned HTML. Getting client buy-in to rectify this was an arduous process, so adding image alt text was our only ray of hope. And with dev resources focused on overhauling the content all together, having a tool like PageImprove to add the alt text as an interim solution would have felt like a miracle.
8. Valid Schema Markup
Schema markup is a collection of code snippets that can be placed on any page of a website in order to call out specific aspects of the page in the search results. Pages with structured data tend to receive higher click-through rates than those without, as the snippets are more engaging and attractive to searchers.
Incomplete structured data may mean you're missing out on valuable organic SERP presence. For example, with product schema, we often encounter product schema missing Global Trade Item Numbers (GTINs), preventing client sites from appearing in popular products panels. Or worse yet—your hard-earned star ratings won't appear on SERPs because the aggregateRating limits aren't fully defined. Invalid structured data got you down? Start solving schema puzzles with PageImprove.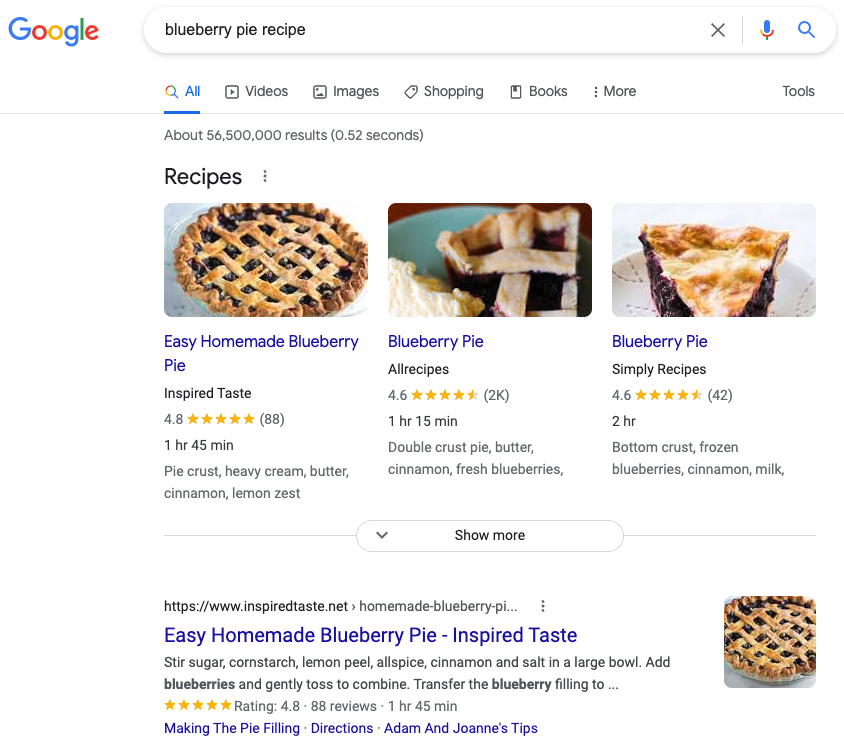 On-Page SEO Implementation Is Key
At the end of the day, SEO recommendations are only as good as our ability to get them implemented. So, while "implementation" isn't technically considered "On Page SEO," it's worth reflecting on whether past on-page SEO recommendations are collecting dust in the dev queue. If that's the case, take SEO implementation into your own hands and jump into the low-hanging fruit on this list. Looking for a partner to help? Reach out to the team at Stella Rising.
If you've been in marketing for any period of time, you've probably heard the phrase "share of voice"—but you might have just a vague idea of its meaning. In fact, you might have heard that share of voice is a PR metric.
In this article, we will go over not only exactly what share of voice is (hint: it's not just a PR task) but also how you calculate it and how you can increase it; and, finally, we'll talk about a toolkit that will help make life easier for you as you pursue building your own share of voice.
Let's get to it!
What Is Share of Voice?
Share of voice is a marketing figure/calculation that tells businesses just how much (percentage) of the market they own compared to the competition.
Now, "own" in the context of this calculation can mean several things. Some believe that share of voice refers to how much paid advertising a company has compared to its competitors. Other experts expand the definition to include things like organic keyword traffic, social media shares, and more. Still others might include share of voice as part of their Surround Sound SEO strategy and KPIs.
How to Calculate Share of Voice
Put simply, calculating the share of voice for your business will look something like:
Your total estimated traffic is divided by the total estimated traffic for brands in your industry and then multiplied by 100. (Source: Search Engine Journal)
In other words:
Your share of voice = organic search traffic/total market organic search traffic x 100.
So, let's say you want to track your share of voice for the keyword phrase "women's running shoes." You would use the following formula:
50,000 (your monthly search volume for that term) ÷ 200,000 (industry average monthly search volume for that term) x 100 = 25%
The answer is your website would boast 25% of the share of voice percentage for that industry term.
Calculating share of voice metrics will look different for every business. In fact, you may want to track several different data points under the umbrella of "share of voice."
Here are a few examples of share of voice metrics to consider:
Organic keyword traffic
Paid advertisements
Mentions
Total revenue
Hashtags
Unique website impressions
You're probably starting to get the impression that, while the initial calculation itself isn't so bad, tracking even just one metric can involve some serious math. If you want to track two or more metrics? Well, it becomes even more difficult to stay on top of this important key performance indicator (KPI). And there is no singular share of voice definition out there.
For instance, let's say you want to know how much "coverage" your brand has—that is, the number of pages on Google that mention your brand or are owned by your brand. In this case, you'd have to scour the web for mentions of your brand, in addition to tracking unique pages from your website that appear in these results. That's a lot of digital footwork.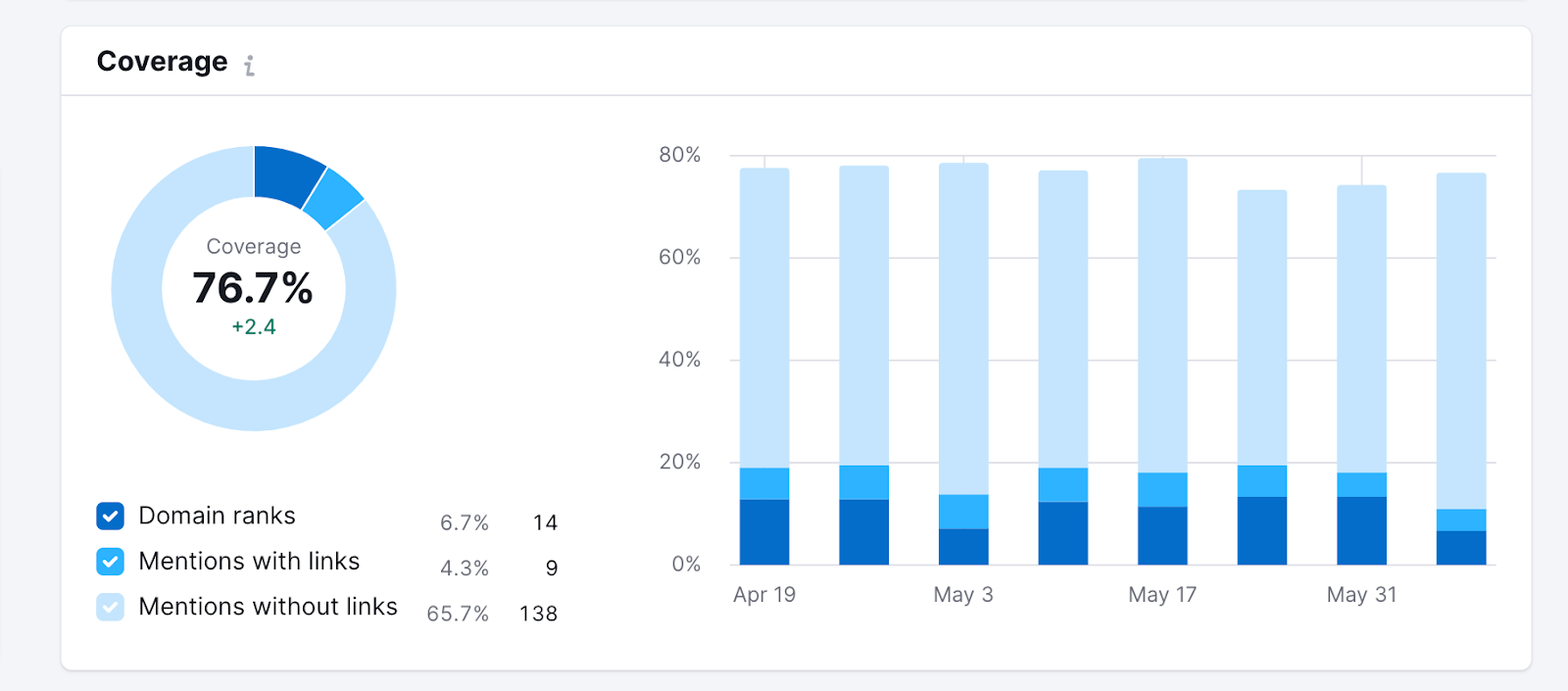 How Can You Increase Your Share of Voice?
At the risk of being repetitive: calculating share of voice is a highly individualized task. That said, we will outline a few examples that you can use when building your own definitions.
Increase Brand Visibility and Website Traffic
Falling somewhere between SEO reputation management, visibility refers to how visible your brand is in relevant searches. Website traffic is usually considered a search engine optimization (SEO) metric, but it can also be a measure of how big your share of voice is in your industry. Estimated web traffic is defined as the unique number of website interactions a set of keywords generates for your business.
Let's say you're a shoe company running a marketing campaign on women's running shoes. You do some keyword research and find that "women's running shoes" is a popular search term and that there are other popular keywords in this arena you would like to target.
The thing is, not all keywords are created equal when it comes to increasing visibility and traffic. A page that ranks for a keyword with a high monthly search volume might not have a high visibility score. That is, it may be included in search engine results pages (SERPs), but it may be at position 19 - a spot that most searchers are not likely to see. A mention on that page is good, but not terribly likely to increase your practical share of voice or your website traffic.
Meanwhile, during your keyword research, you might find that a search term like "lightweight women's running shoes" doesn't have nearly as much monthly volume as "women's running shoes," but a page ranking for that term might have high visibility in the SERPs (ranking toward the top of Google's results pages). This would be a great page on which you might try to get mentioned.

Visibility, in other words, is weighted coverage. This sweet spot that considers keyword volume and visibility helps you prioritize your outreach. It's sometimes referred to as "potential" as in Surround Sound: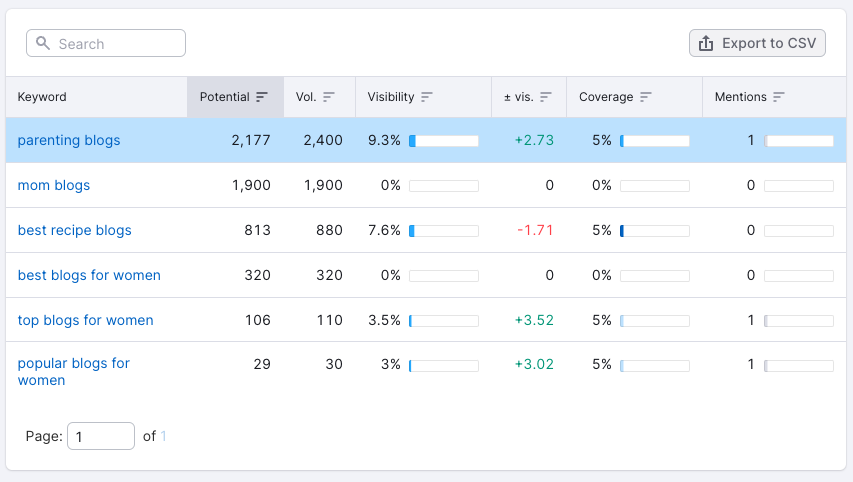 So, how do you increase your estimated traffic? The first step is to do an in-depth keyword analysis to find keyword groups that target moderate-to-high monthly search volume and get mentioned on pages with moderate-to-high keyword visibility. Of course, you can also start small if your brand is new, looking at keywords with lower monthly search volume.
You can do this using a keyword research tool or by diving deep into the SERPs to see what kind of keywords and content your competitors are using to draw in new customers.
Or, even better, you can use a tool that does the calculating for you. We'll get into that in just a second.
Increase Your Coverage
"Coverage" has a looser definition. Unlike "visibility," coverage considers all mentions of your brand as equal. Just as the name implies, coverage looks to see just how far your message has spread across the web. This could mean that your content appears in the Google SERPs directly from your web property, or someone links back to your web content from their website, or they make a simple mention of your brand without linking to your website.
To increase your coverage, you can do several things:
Start building backlinks to your content by contacting publishers in your industry and asking them to publish your content on their web properties or in reviews, roundups, and list articles. Easily spot valuable opportunities with Surround Sound by Semrush.
Create more content on your website that is keyword-targeted and highly relevant to your audience. This increases the likelihood of getting your content to rank, but also that other websites will mention you without linking to you.
Make sure your Local Pack information is up-to-date on Google. This is the initial business listing most customers will interact with. It will tell them, as well as anyone who might mention your business (as part of, for example, a blog article titled "12 Best Shoe Companies"), that they can trust your business. You can use a Listing Management tool to manage the Local Pack.
Increase Your Mentions
Mentions are a little bit more complex than other share of voice metrics. Mentions can include things like social media mentions or mentions across the web.
But, no matter what type of mentions you're looking to track and improve, you'll more than likely want to increase the number of mentions with a positive brand sentiment, not a negative one. To do this, you'll want to be sure that you are answering customer reviews quickly—both good and bad.
You'll also want to be responsive on social media and through any contact forms you put on your website. In other words, you want to give customers the best possible brand experience that you can at every available opportunity.
You can also encourage regular customers to leave positive reviews and testimonials on sites like Yelp and Google. This is one relatively easy and cost-effective way to increase your positive mentions across the web. Don't forget to take a look at what your competitors are doing for their customers, too!
Approach publishers who have written list articles, reviews, and roundups to see if they are willing to mention you. Oftentimes, the best publishers to approach are those who have already mentioned your competition, but haven't yet included you in the article. This strategy is sometimes referred to as Surround Sound SEO.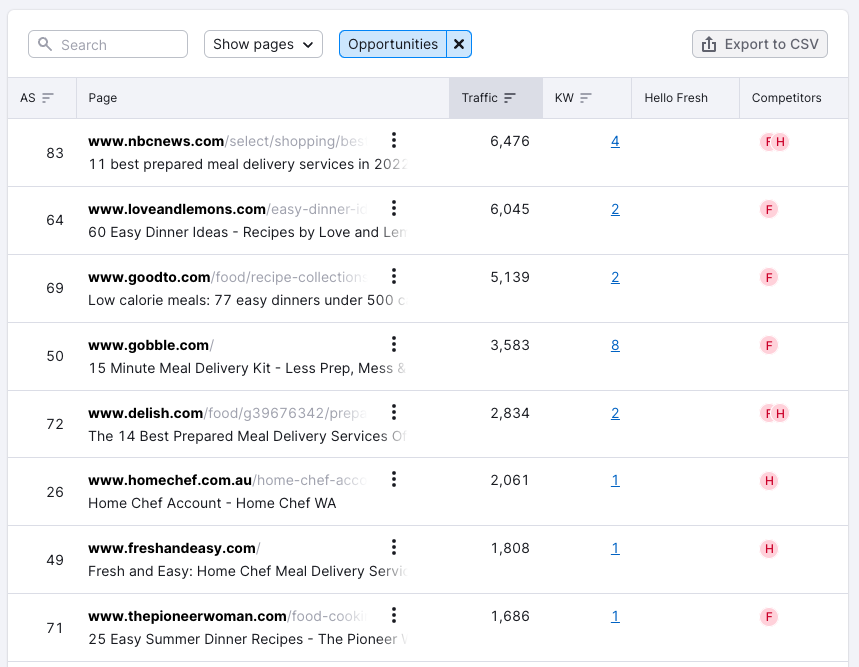 Are There Share of Voice Tools That Can Help?
Tracking share of voice metrics can be a time-consuming, resource-draining process. If you plan on defining share of voice in a number of ways for your business, or if you plan on defining it in any of the ways we covered above, you don't have to do that math by yourself or update the metrics solo, either.
Save your precious time and energy for other marketing tasks by leaning on a share of voice tool like Surround Sound. Surround Sound can help you track coverage, mentions, visibility, and estimated traffic.
You can use one dashboard to track trends in these metrics from week to week, month to month, and year over year. If you want more details about how these calculations are made, check out this handy article on Surround Sound's calculations.
Don't spend time crunching complex numbers on a calculator; you have better things to do. Give Surround Sound a try.
You know that SEO (search engine optimization) is an organic way of driving traffic to a brand's website.
What you don't know is how to make SEO traffic generation work for your brand without draining your budget. Correction: you don't know how to yet.
We'll demystify the process and help you drive relevant traffic to your website without spending a single cent all with the help of On Page SEO Checker.
How Does SEO Generate Traffic?
SEO traffic generation works by helping search engines understand what your website is all about. It makes it easier to place your site on the SERP (search engine results page) in front of an interested audience.
Larry Page (Google's co-founder) once described the perfect search engine as "understanding exactly what you mean and giving you back exactly what you want."
Simple, right? Not exactly.
Factors like site architecture, helpful content, and targeting the right keywords all play an important role in communicating to search engines so they can understand what your site has to offer.
Other SEO signals like site speed and a good user experience across all platforms matter to Google and should matter to you too.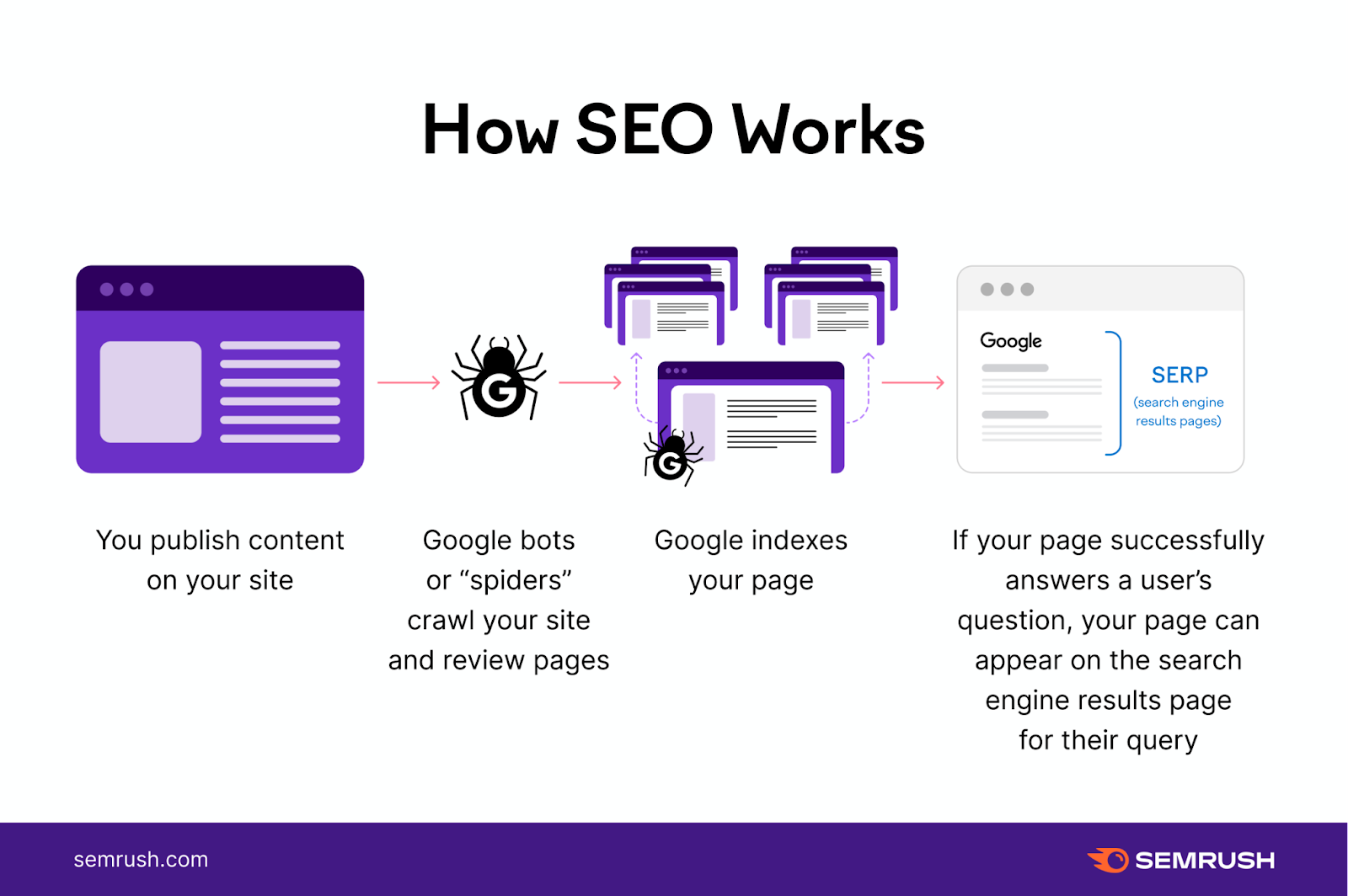 But making your site as user-friendly, fresh, and helpful as you can is the way to get Google's green light. Do this and you're bound to attract more organic traffic.
Let's break it down together a little more.
How to Generate Website Traffic for Free (Without Social Media)
It's more than possible to generate site traffic for free and without social media through SEO. While SEO is a process that takes time, it can bring in a lot of long-term ROI if you're patient.
Yes, Google has hundreds of ranking factors with multiple variations in its algorithm.
Does that mean you need to know every ranking factor to succeed? Nope!
Instead, you can focus on three parts of your online visibility to drive your target audience to your website. These three factors are:
On-page SEO
Off-page SEO
Technical SEO
You can scale the search engine results pages with this in mind, with patience, and with a flexible strategy.
Including each of these three types of SEO in your digital marketing strategy can help you check off as many boxes as possible on Google's list.
Get SEO Ideas for Your Website
with Semrush On Page SEO Checker
How Can On-Page SEO Generate Traffic?
On-page SEO, in short, is the process of optimizing the pages of a website to make it user-friendly. You can probably guess a few of the elements that make up on-page SEO, like high-quality, relevant content.
But there isn't an actual person reading over every page on your website to decide its rank.
Instead, you have to make your content easy for Google to read and understand. You can do this by using keywords in the right way throughout your content for Google to understand what you're writing.
Part of doing this includes using relevant headers to break up your content, adding value through images, and using markup to help search engine crawlers understand your content.
Other on-page factors to optimize:
Internal links
URLs
Title tags
Clean HTML
Image size
Mobile usability
Of course, it's so much more than this. However, you don't need to be Larry Page to master your site's on-page SEO.
How Does Off-Page SEO Generate Traffic?
True to its name, off-page SEO involves any action that contributes to your website's rank via someone else's site.
It's true that social media affects off-page SEO. But there are other ways you can capitalize on it—like with backlinks.
Webmaster Trends Analyst, John Mueller, said that link building can help with your overall search strategy during a Google Search Central SEO hangout in 2021. Though, he stressed that relevant, high-quality links are what really matter.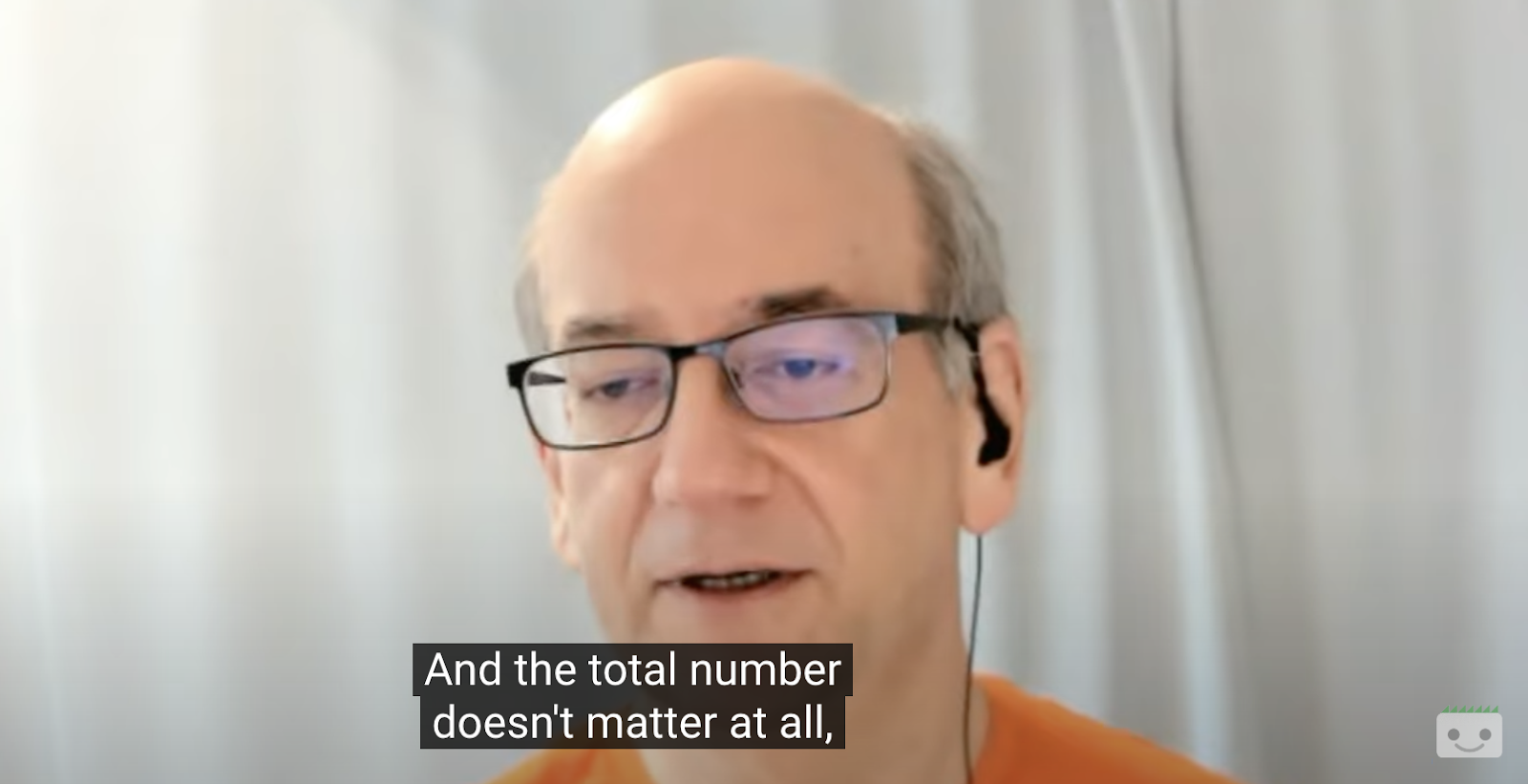 On Page SEO Checker gives you actionable ways to snag backlinks that bring the right audience to your website at the right time. We'll revisit this a little later.
What Is Technical SEO and How Does it Generate Traffic?
Technical SEO describes the actions you'd take to improve the indexability and crawlability of your website.
Whereas on-page SEO deals more with the user-side of making a website easier to understand, technical SEO makes it easier for crawlers to understand.
You might've heard of the term "core web vitals." It's a series of tests that measures:
Your site's load time
If your site visually shifts once it loads/as it loads
How long it takes for elements to load on your website after user interaction
These metrics above along with others (i.e. page speed and site architecture) can have a big impact on your website's technical SEO.
Search engines may place you higher in the SERP if your site health rocks. And that translates to more online visibility and traffic as a result.
What Is On Page SEO Checker?
On Page SEO Checker is one of many free tools to increase website traffic in the Semrush suite. Instead of throwing darts in the dark trying to optimize your pre-existing content at random, you can use this tool to gather solid SEO suggestions based on real-time data.

The reports from this SEO checklist tool can show you:
On-page SEO ideas
Semantically related words to include on your pages
Target content length and readability
Backlink prospects
Ideas to improve technical SEO
Our crawlers scour the SERPs to find your top 10 competitors for targeted keywords so you learn from their strategies.
Also, On Page SEO Checker can crawl your entire website to fight against keyword cannibalization and check off items as you go along.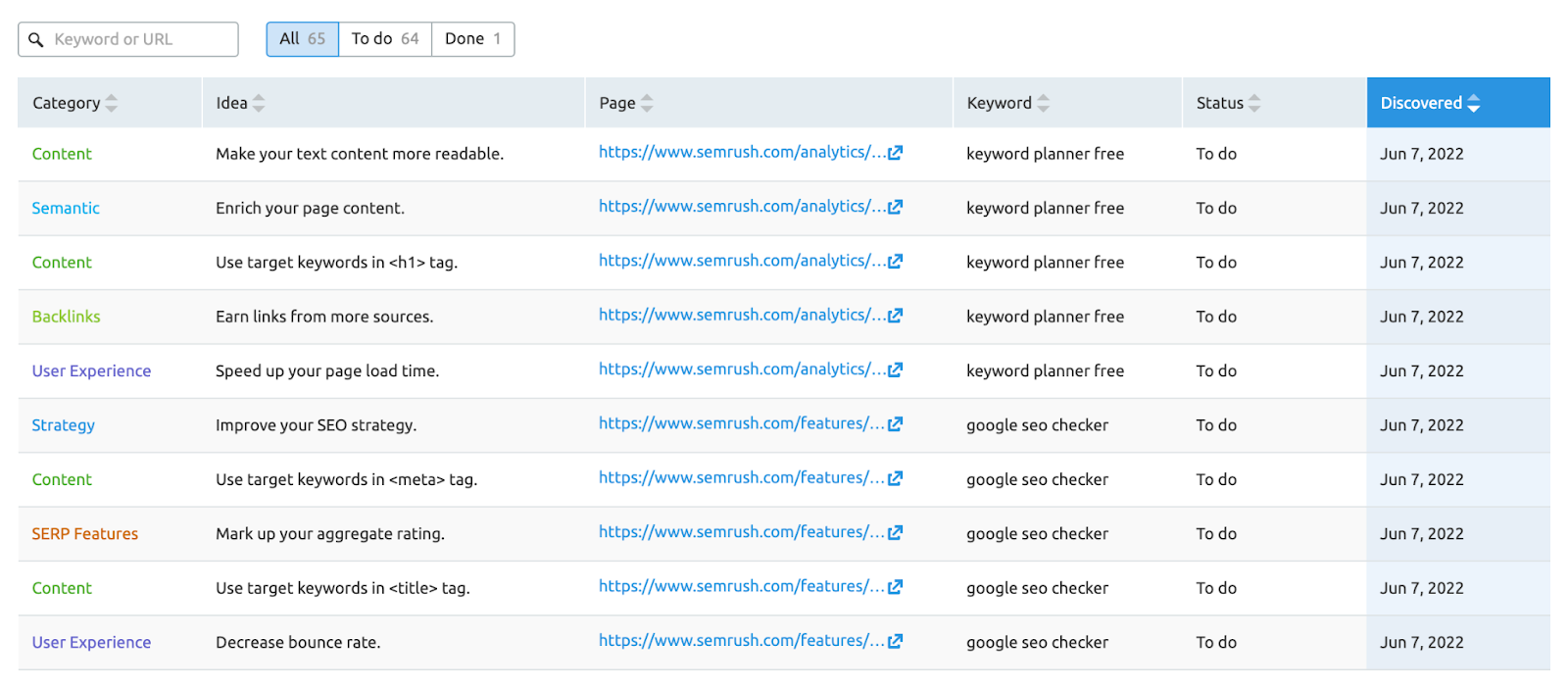 It's tricky to know which aspect of SEO to start with. To help you choose, this tool suggests the priority of what you should focus on first.
The Trello integration can help your entire team stay on track and on the same page.

You can choose to look at ways to improve your organic traffic per page or per SEO idea. It's your preference—either route can help lead to interested website visitors.
How to Find SEO Ideas with On Page SEO Checker
Look no further than the On Page SEO Checker to find enough SEO ideas to keep you busy for weeks. You can see all these suggestions from the Optimization Ideas tab.
Strategy Ideas
This type of SEO idea lets you know if you're optimizing for the right keyword for a targeted landing page.
For instance, imagine you're optimizing a specific webpage for the term "google ads." Said page ranks for the 101st position for the term.
Cue plot twist:
On Page SEO Checker crawls your site and finds that you have another page that ranks for position 55. It makes more sense to optimize the page that ranks for the 55th position because it has a better chance of moving up than the other.

The Strategy Ideas section of the Optimization Ideas report also makes you aware of any keyword cannibalization issues.
As a quick reminder, keyword cannibalization is when multiple pages of your website are targeting the same keyword. It leads to a fight between your content over who gets the better position for the targeted keyword. And here Google is the referee (aka not you).
SERP Features Ideas
SERP features are enhanced search results to help searchers easily find the answers they're looking for. You probably recognize featured snippets.
These coveted spots take up a decent chunk of web real estate and can take the first position on the SERP without needing to rank for the first result.
The SERP Features Ideas section can help you figure out the best way to snag these spots based on the data of your top 10-ranking rivals'.

This section can also give you a heads up on opportunities where you can add a bit of markup to your page to increase the chances of earning a reviews SERP feature.
Semantic Ideas
Google's algorithm is quite clever and can better understand your content if you include terms related to your targeted keywords. These related phrases are called semantically related keywords.
To help you craft your semantic strategy, On Page SEO Checker has a Semantic Ideas section that compares your content to that of your top 10 rivals. It looks at the top results for your targeted keyword and then looks for the semantically related keywords in your competitors' content.

Clicking on "See detailed analysis" will show you how many times your rivals used these related terms along with how many times you've used them on a targeted page.
Weave these into your targeted page and you could be looking at more organic traffic.
User Experience Ideas
User experience (UX) has become increasingly important to Google. It makes sense: if a website is difficult to use, Google won't want to promote it.
The User Experience Ideas section under the Optimization Ideas tab checks for three metrics:
Page load time (which should be 3 seconds or less)
Bounce rate
Time spent on the webpage
These tests aren't wild guesses. You can get accurate SEO suggestions because On Page SEO Checker has a Google Analytics integration. If our crawlers see a page with a long page load time or high bounce rate, it'll suggest that you optimize these pages to improve the user experience.
Backlinks Ideas
Most of this tool's suggestions deal with on-page optimization.
But why stop there?
The Backlinks Ideas section looks at your content competitors based on the targeted keyword and landing page.
Then, it tracks down your rivals' existing backlinks—referring domains that very well might give you a link with the right outreach strategy and content.

Clicking on "See detailed analysis" reveals which referring domains link to your top 10 competitors. It also shows you which ones already link to your targeted landing page.
Technical SEO Ideas
You can craft the most informative content, but no one will be able to find it if Google's crawlers can't access it.
If you've already run Site Audit, the Technical SEO Ideas section can show you issues it found that could prevent Google from accessing your pages. Fixing them could help people find the content you worked hard on and turn them into viable leads.
Content Ideas
The Content Ideas section offers the following on-page checks:
Readability
Keyword stuffing
Using your target keyword in the right places (like H1, meta title, etc.)
If your content is long enough in comparison to your rivals'
If Google decided to change your meta tags from what you wrote
Whether or not a webpage could benefit from including a video
These are all pretty easy SEO ideas that can have a major impact on your website's SERP position. That said, it can be a long to-do list, which the On Page SEO Checker is happy to keep track of.


Just like some of the other sections, Content Ideas also compares the targeted landing page to its top rivals and tells you where you can improve your content.
You can get a detailed view of the breakdown by clicking the "See detailed analysis" link. It'll lead you to a report with more data.

Final Thoughts on Generating Organic Traffic with SEO
You might have landed on this blog without a single SEO idea. Now, you should have a long list of them. Knocking off each suggestion brings you closer to the top of the SERP and closer to the eyes of your future audience.
Best of all, SEO can be great ROI, especially if you're up for doing it yourself.
You can use On Page SEO Checker to help with your supply of on-page, off-page, and technical SEO ideas. It'll keep track of your accomplishments and the results of your effort.
With a free Semrush account, you'll be able to gather ideas for up to 10 different keywords. If you'll need more ideas, consider signing up for a 7-day free trial of an expanded subscription.
Put in the work with these suggestions to see how much traffic SEO can bring your site without using social media or burning through your budget.
SEO is one of the most widely mentioned terms in the business world today. But though many business owners believe they know the meaning of SEO, they might not be sure of all the services that are embedded within the package, nor do they know how to maximize the benefits of an SEO company.
This guide is dedicated to holding business owners by the hand, leading them through the ABCs of SEO services, what is included in SEO, how SEO business works, what an SEO company is and what to expect from them, how to hire the best one, and what it might cost and why.
So, if you are set to leave the dark to learn all the important details about how to take your business to the next level with the help of SEO companies, keep reading.
What Is SEO? | SEO Services Description
Understanding what SEO is in business is the first step to better sales and visibility for your business.
SEO is a digital service employed by business owners to improve visibility, drive traffic, boost sales, convert website clicks to customers, and increase business revenue. It is a short-term (and a popular term) used to refer to Search Engine Optimization.
It is usually adopted to target search engines (mostly Google) to help business owners gain needed attention and attract their target audience faster than without SEO.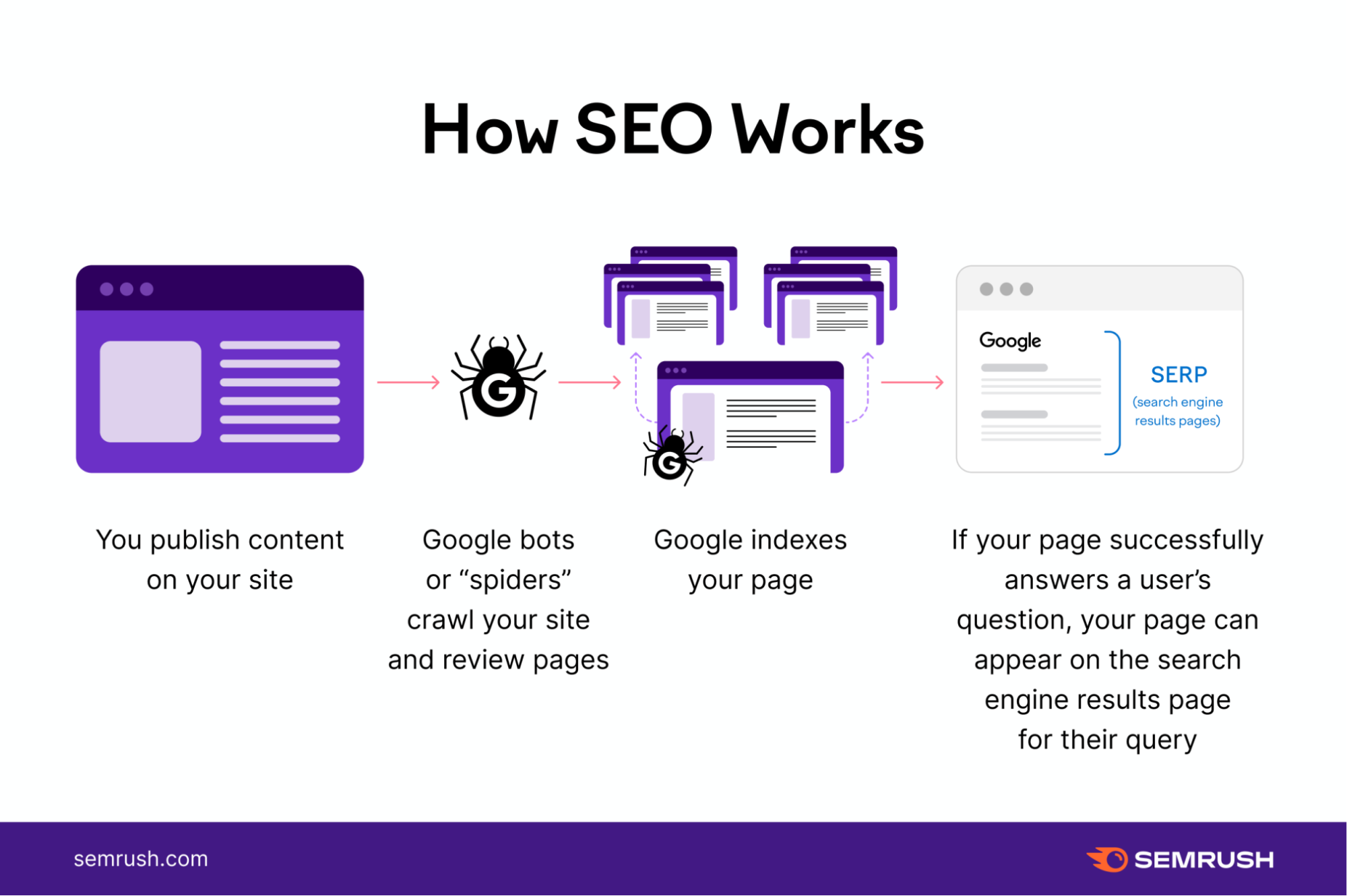 What Does SEO Include?
It is a combination of many sub-services like local SEO, mobile SEO, technical SEO, content SEO, and so on, working together to achieve the same objective: to bring in more money for the business owner.
SEO involves a series of steps and processes that work together. It starts with the story of the search engine index. Think of it as a huge online library with someone who scans for new books, a library arrangement system, and tons (mega trillions) of books.
The person who scans for new books represents search engine bots, while the books stand for published websites (such as online stores, blogs, news sites, and so on). Also, some factors are used to arrange (rank) one website over the others such as keywords, quality of links, website content structure, and so on.
But the simple description of how websites are ranked is this: whatever website best answers a searched query comes in at number one on a search engine result page (SERP).
So, Where Do SEO Services Come In?
The process of SEO takes into account what search engines are looking for in a 'great website', so that you as a business owner can incorporate these factors into your website and make it rank higher than your competitors. This is how visibility and a lot of the other benefits are attained.
In summary, an SEO agency finds out what your customers look for the most, what they like, where they are, and what they do, and tries to design your website in such a way that you become exactly what they need at the right time and place.
Is It Worth Hiring an SEO Agency?
If you are among the business owners asking these questions …
Is it worth paying for SEO?
Do SEO companies work?
Do I need an SEO agency?
… then you need to read this section to the end.
Yes, many business owners try to do their website SEO by themselves (DIY) and there is nothing wrong with that. However, something that is as vital and key to a business as SEO should be approached with absolute professionalism and seriousness, and so an SEO company should be hired.
Yet, if you are still of the belief that your business can do just fine without the intervention of an SEO company, here are three reasons why you need an SEO agency to help direct the right kind of traffic towards your business website and products for better conversion potential.
1. Time
In a business, resources are everything. The number of resources available to a business determines how they use those resources. That is why scarce resources are usually handled with care—planning out the best way to invest them for greater returns. How much more time? Time is not only scarce but cannot be recovered if wasted, and SEO is time-consuming.
While some small businesses believe they have the time to handle their website's SEO by themselves, it is advisable to spend that time expanding their network through many other means and outsource their SEO needs to SEO firms. Not only will this reap better results than the DIY method, but the business will profit in two ways: time well spent on other demanding areas and high-profit SEO returns.
2. Technical Know-How
SEO requires much more than time. It also requires advanced knowledge of certain techniques, skills, knowledge, and expertise that may be eerie or sound unfamiliar to you. These skills cannot be overlooked because they are paramount to quality SEO services.
Some of these skills include writing, communication, keyword research, computer programming, analytics, content marketing, project management, prioritization, analysis management, critical thinking, humor, social skills, and decision-making skills.
An SEO company or agency usually delegates these areas to specialists in these fields, thus giving you the best result. So, unless you are a guru in all the mentioned skills, it is better to hire an SEO company.
3. Great SEO Marketing Business
There is no doubt DIY SEO can get your business the visibility you desire, but what are the odds that your business is being viewed by your target audience? An SEO company uses the SEO tools available to help fine-tune your business website to suit the requests of your target audience.
While your SEO might be getting an increase in visibility, professional SEO is targeting conversions, clicks, sales, higher ranks, and much more. So, if you are asking yourself, 'What do SEO companies do?' They don't just put a business out there for the world to see, they put the business right in front of the right audience.
As for the questions Is it worth paying for SEO? Do SEO companies work? Do I need an SEO agency? The answer is yes—hiring an SEO firm is an investment that is certainly worth it.
What Is an SEO Company?
Little bits about SEO company description and SEO company meaning have been established since the beginning of this guide. But for more questions like 'what is an SEO agency or what is SEO business?', this is a section dedicated to tackling these questions.
First and foremost, the explanation for SEO companies is the same as SEO businesses as well as SEO agency meaning. Therefore, throughout the rest of this guide, the terms would be used interchangeably.
SEO businesses also sell products and services like you do, except that their products are SEO tools and their services are SEO services. Their goal is to optimize your website to suit both your target audience's and search engine requirements for better online visibility.
Their work includes the generation of links, creation and optimization of content, restructuring of website design, and full website performance. However, do not be deceived. Not all SEO companies out there really offer these services.
That is why it is best to be on the lookout for which SEO firms offer these products. One example of a great SEO agency is Semrush, providing the listed services and a lot more for the enhancement of a business's online profile.
Find a reliable SEO agency to scale your business
via Semrush Agency Partners
What Is an SEO Team?
Another term you might come across within this subject is a team of SEO experts, better known as an SEO team. If you remember the section about whether hiring an SEO company is worth it, it was mentioned that an SEO firm delegates the parts of full SEO to specialists to handle.
These specialists are the team of an SEO business. They know (or are supposed to know) exactly what a website needs to rank high for SERPs (Search Engine Result Pages).
What Do SEO Services Include?
The following are some of the services that SEO firms (at a minimum) provide for their clients:
Content creation and marketing
Website page speed optimization
Provision of SEO strategy tailored to the business's specific needs
Website auditing and reports.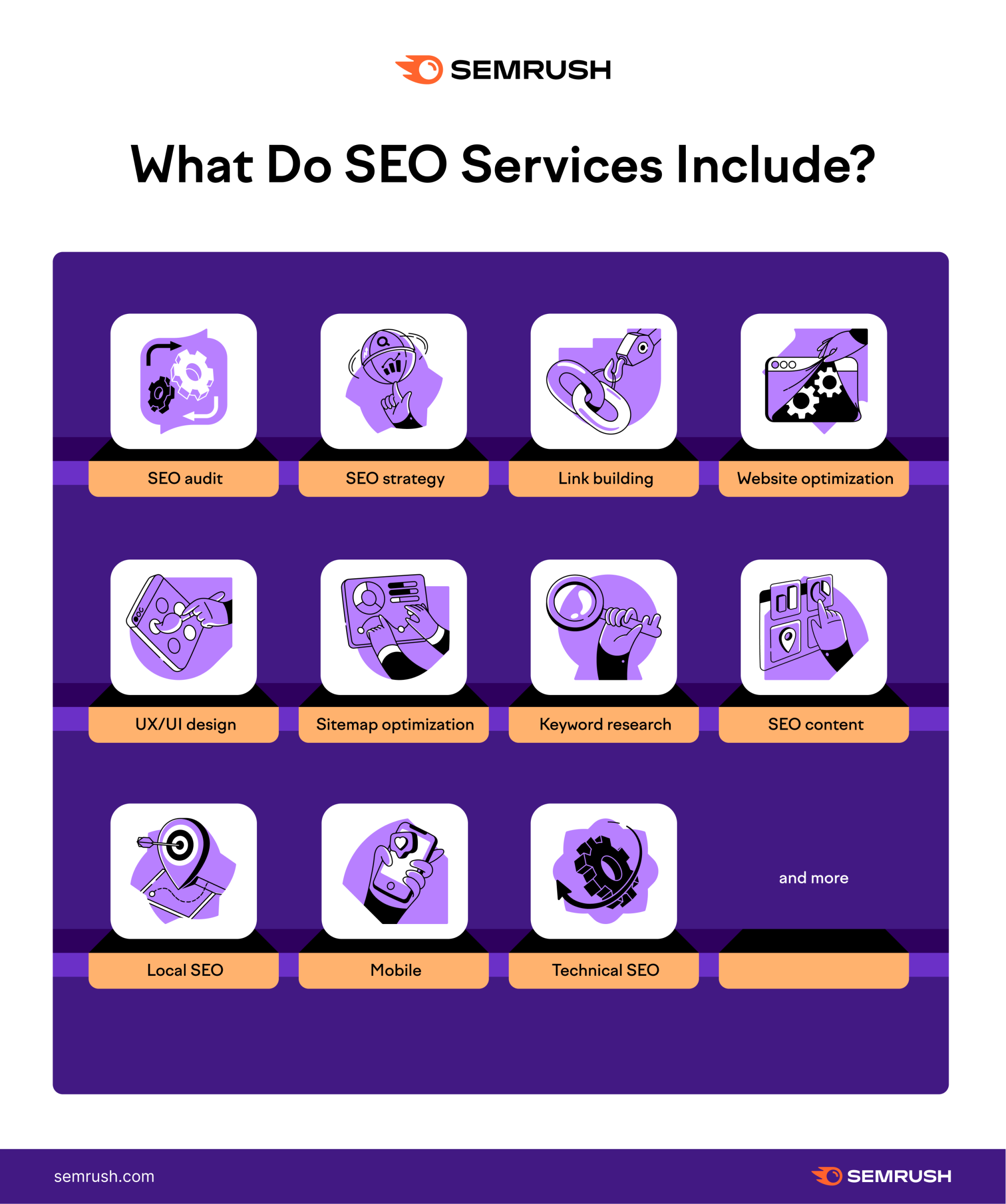 What Does an SEO Company Do? What to Expect from a Good SEO Agency
Though some of the benefits of SEO for companies have been mentioned during this guide, this section is to give answers to the question: what do SEO agencies do?
Below are four ways to benefit from well-delivered company SEO provided by a good SEO agency.
1. SERP Ranks Improvement
By now, SERP should be a familiar term, but for the record, it is an acronym for Search Engine Result Page. This is the page that contains the results after a query has been searched for on a search engine.
But the most fascinating thing about SERPs is that (just like the search engine index) the results are shown based on ranks. Apart from sponsored ads, the first result is the most optimized—containing content that (according to search engine bots) best answers the query searched.
Usually, websites that show up on the second, third, and further pages rank lower accordingly and often contain only a fraction of the answer or simply mention the subject briefly.
When working with an SEO company, one of the things you will stand to benefit from is a gradual increase in your business website position on SERPs.
For example, at Semrush, keyword research will be conducted to help attract the right kind of audience to the website, and then the site's structure, design, and the content will be optimized for better navigation, readability, and general user experience (UX). This will put your website on the way to becoming an authority website on search engines.
2. Organic Traffic Growth
Traffic is the soul of a business. Similar to a physical store, where the business owner hopes for walk-in customers, for an online business owner, you need a lot of traffic for your site to increase your customer conversion rate as well as your site's value. A good SEO company should work on increasing the amount of traffic that is directed to your site.

But it is not just any kind of traffic—it's the organic kind. There is no use trying to attract billions of bots to a website, because there will be no record of sales. The goal should be to attract real people (importantly, your target market or target audience), so that the conversion rate can improve and you can increase sales and revenue.

To increase organic traffic for a website, many SEO companies use various methods and tools. At Semrush, the on-page, off-page, and technical website SEO will be examined and restructured as well as tracking the website's primary and secondary traffic sources for better optimization.
3. Audience Targeting
Another thing that business owners can expect from a good SEO agency is help targeting the right audience. As mentioned earlier, outsourcing your SEO needs to an SEO company will help to streamline the effect from targeting the world to reaching only your target audience.
This is done by using high-intent keywords, meaning that you can include things that your audienc are likely to search for within your content so that when people search for these keywords, your website pops up on the first page of SERPs—if not the first result.
4. SEO Analytics and Reporting
This is where you can tell a good SEO agency and a poor one apart. A proper SEO company is supposed to send back frequent analytics SEO reports that detail the state of your website before work began on it.
Some of the other things the report would include are the keywords that ranked high for your site and target audience, SEO campaigns carried out on your site, changes made to the website, as well as the result of the service (revenue generated, keyword rankings, traffic sources, and traffic volume).
The characteristics and content of the result will also determine whether you would continue to work with that SEO company or get a replacement agency.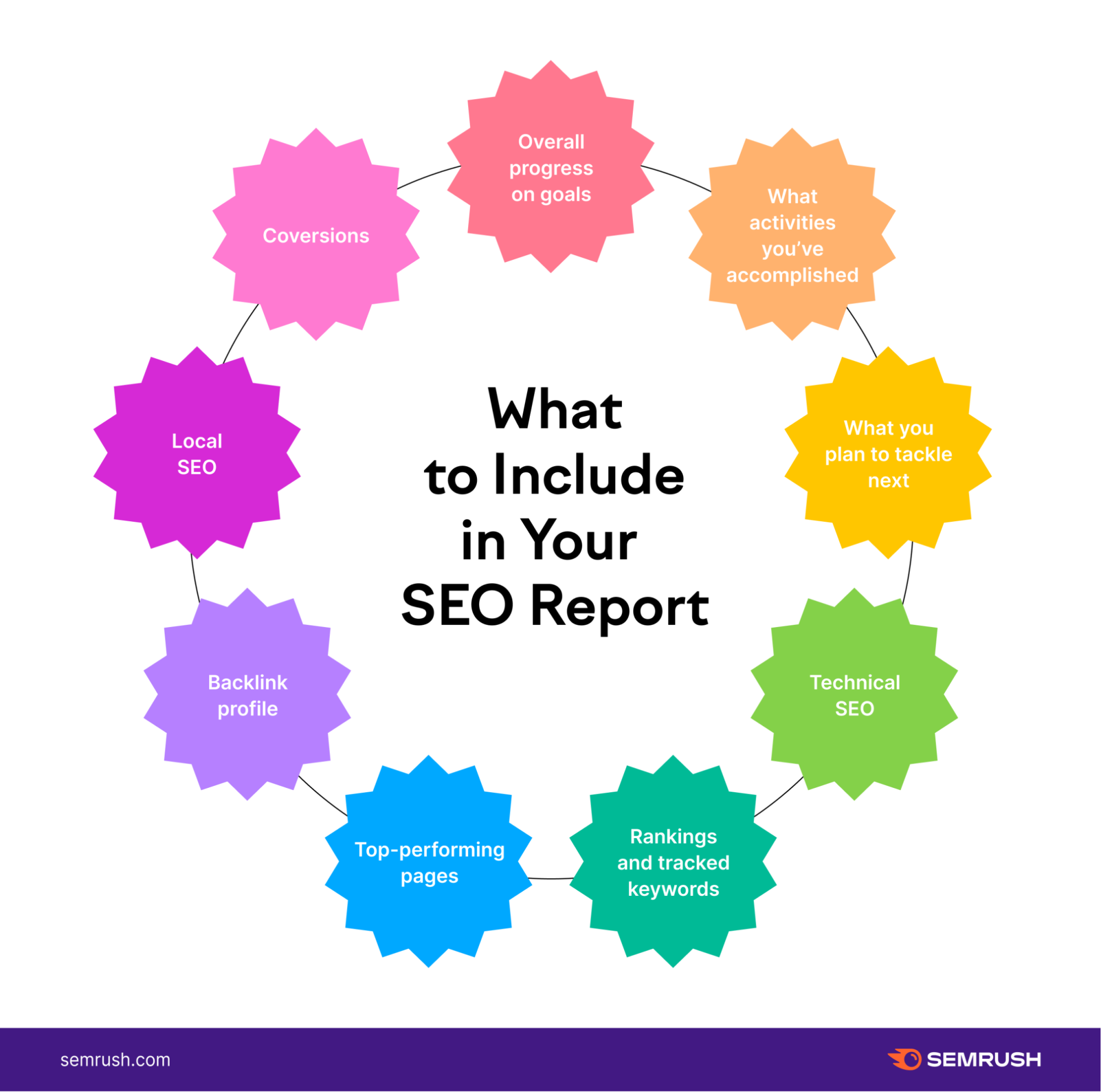 What to Expect from a Good SEO Agency?
Every SEO agency has a job to get a website from where it is to the first page of SERPs, even if it is not the first result. To do this, modifications have to be made to the website to ensure that all parts of the site meet search engine index requirements.
This includes a series of steps that should be taken one after the other, but a fake or less-than-good SEO company might want to take the easy route, and scam you using different processes that are fast but won't bring you quality results. Others might want to close a contract with you by feeding you with attractive terms and collecting your money but will not produce any result.
That is why Semrush encourages business owners to join in on a conversation about their goals, what they would like to achieve and how. Speaking directly to the SEO agency will not only help the agency get a clearer understanding of what you want, but will also help you as a customer to tell a bad egg from an SEO company that is born to serve.
Therefore, without further ado, the things you should expect from a good SEO company:
Website Audit and Analysis
Before attempting to move a website from one point to another, it is strategic and wiser to first have an idea of where the website is currently. This is what an audit is.
At the beginning of the whole process, an SEO firm would test a site using website analytics or an audit to find out the current statistics of the website in terms of how much traffic it generates, the speed, the keywords it ranks for as well as how well (or badly) it ranks at that time.
It is simply trying to figure out what the website needs to improve and what should be removed. Any SEO firm that skips this step will most likely return an incomplete job, because how can you help a website when you didn't even know what it needed in the first place?
During an SEO audit, the agency also examines the business's competitors, learns from them, and attempts to get the website to the point that it would look as good (or better) than the competitors'. This is where creating a strategy comes in.
After identifying the strengths and weaknesses of the site, the spaces that need to be filled, and the overloaded areas in comparison with competition sites—in general, understanding your site—the SEO company would then create a tailored strategy that can increase your rankings.
SEO Strategy
Since needed information like who your target audience is, keywords you rank for, and so on, have been identified, the next step would be to create a unique strategy for your long and short-term goals.
It should include a step-by-step plan on what to do and the expected result. Some advice though—it is a major red flag if the SEO company you are working with cannot break down the strategies for you. Trying to rush over their game plan usually means there isn't one. Therefore, stay alert and ask questions when you don't understand any step of the proposed SEO strategy.
Advanced SEO Tools
This is where the fun begins. The SEO firm in charge of your business SEO would help you choose among the abundance of SEO tools out there to find which one best suits your goals and needs. Then these tools would be inserted or arranged into a dashboard for easier access.
Some of the elements that can be found in SEO tools include Broken URL reports, Organic traffic tracker, Backlink analysis, Keyword ranking, and so on. These tools can also make it easier for you to track the progress along with the SEO company. A few of the best SEO tools include Semrush, Ahrefs, Moz, and many more.
SEO Setup
This is when the proposed strategy is set up and the company starts to work on running with the strategies so that you can begin to see results gradually. The target here is to solve the problems identified during the audit.
Some of the things that proper SEO companies do during this stage include finding primary keywords that will help SEO campaigns, connecting the website to Google Search Console and Google Analytics, restructuring the website design, optimizing the website for mobile SEO, performing image optimization, and code minimization.
Continuous Optimization
Just because the work has been done doesn't mean that is the end of the contract. A good SEO company continues to watch, track, and maintain progress for a longer time. This is to ensure that the results do not diminish and that the website continues to rank higher.
This is also because search engine algorithms are not fixed. They change often and hence new requirements are set as the basis for high rankings. The work of an SEO firm also includes helping to modify the tools used to suit the changing algorithms. An SEO agency will stay up to date with the latest algorithms so that you keep getting traffic, your website stays visible, and the results keep coming in.
How Much Does SEO Cost?
At this stage, you should already know the answer to many of the questions raised at the start of this guide like 'What is an SEO company?' and 'Do SEO services work for businesses?'
But the target now is to determine how much you would most likely be spending for SEO services.
For starters, you should budget between $700 and $2,500 if you are a small business.
This is a vague answer because the cost depends on several factors. Some of the factors that determine the price of SEO include the goal of the business, the timeline of the service, the pricing system of the SEO company, the method of payment (hourly, monthly, yearly), the tools and software that would be needed, and so on.
There are three to four stages of SEO services ranging from basic to high-tier SEO. However, as a business owner that is new to the world of SEO, and still trying to find a footing, basic SEO is the way to go, costing anywhere between $700 and $2,000 monthly. The timeline for the service is usually about 3 months with constant customer support.
Also, there are three methods of payment and this depends on the agency offering the service. Businesses can pay per project, which would include an overview of what is expected per project. The content required would be specified—how many words, as well as the number of links needed. Depending on your goal, payment per project usually comes off as the most expensive because you would be expected to pay a lot at once.
The second method of payment is to pay monthly. There are usually different plans under this method of payment. Some plans last for a month, 3 months, 6, and then 12 months. Usually, longer-term plans are encouraged with a discount..
Finally, hourly payment is another payment method—though not common among SEO companies. Businesses would sign a contract to pay a certain amount for a specific job at hourly rates. This might come in as the cheapest but is not recommended for startups and newcomers.
How to Choose the Best SEO Agency?
Finally, the big question: what should you look for before hiring an SEO company?
There is only one way to completely ensure that the SEO company you are signing up for is legit and will deliver quality results, and that is research. You have to research the company for online reviews, have a talk with them, check to see if they have a reputation for getting results, and so on.
While doing this, take into consideration all that has been said about SEO services and the expected job of an SEO firm in this guide. Or better still, sign up with a recommended SEO company that is guaranteed to offer quality SEO services.
Some reliable SEO agencies can be found at Semrush Agency Partners. If you are looking for a trusted agency partner for your marketing task and your website optimization needs, visit Semrush Agency Partners, speak with them, and get your needs attended to at a corresponding price.